Urethane spray nozzles are found in hundreds of industries and applications. Custom urethane spray nozzles perform tasks from cleaning, lubricating, dispensing, sanitizing and high demanding applications like media blasting. Urethane is an ideal material due to its low cost while replacement parts can be customized for special applications. Urethane spray nozzle tips have the ability to tackle high demanding applications like sandblasting and will outperform most plastics, nylons and OEM replacements. Whether dispensing sand, water or any other material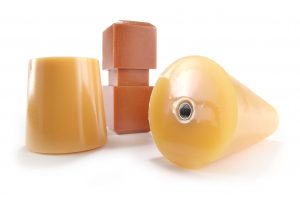 Whether dispensing sand, water or any other material urethane is ideal for high-pressure applications where abrasion resistance or chemical resistance is a key component of the product. A metal core can also be added to the urethane spray nozzle for reinforcement adding to additional structural integrity to the design. Urethane spray nozzles can be custom made to your exact dimensions with additives to reduce static build-up or with the intent of being FDA Dry approved for food applications. Plan Tech can supply polyurethane spray nozzles from ten to ten thousand with excellent lead times. We also have the ability to cast urethane spray nozzles from 1'' inch to 48''.
            Tight Tolerance Urethane Spray Nozzles
Plan Tech, Inc. fabricates and sells high-quality cast polyurethane components for industry. We manufacture custom urethane parts that include but are not limited to: urethane idler wheels, v-grooved wheels, urethane bearings, urethane bushings, urethane rollers, custom cast urethane spray nozzles and many others! Plan Tech, established in 1986 by a management team with over 70 years of combined experience in the cast polyurethane industry is located in Loudon, NH. We occupy 20,000 sq.ft. of manufacturing and office space in the Shaker Brook Industrial Park. Plan Tech processes polyurethanes in a wide range of chemistries including dedicated TDI and MDI production cells. The engineering staff has the experience and knowledge to select or tailor a urethane chemistry to your requirements.
Please Contact us for further details regarding your urethane spray nozzles application!