Urethane Tubes ? You've come to the right source!
Urethane tubes are a primary focus for Plan Tech – we specialize in high precision urethane tubes and are one of the leading suppliers in the United States. We offer a standard line of cast urethane tubes with diameters up to 36″ and lengths up to 48″. The polyurethane tubes are available in all colors and durometers. A variety of polyurethane additives can be added to enhance wear properties, add lubricity, UV stabilized, or to reduce static build up. Some common types of urethane tubes:
Urethane Tubes
Custom Urethane Tubing: Custom urethane tubing for machining stock is available in any hardness for the most demanding applications. Using high-quality polyurethane prepolymers from world leading chemical suppliers Plan Tech is able to produce high-performance custom urethane tubing for any application.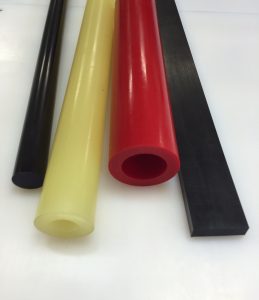 Urethane Tube Stock: Urethane tube stock from cast high-quality machinable polyurethane material suited to fit any applications is available at Plan Tech. We supply urethane tube stock up to 48 inches tall and available in most common nominal OD & ID sizes with a tolerance of +/-.030. Each urethane tube is hand cast allowing us to tailor our urethane material to add lubricity or an anti-static urethane for rolling applications.
Polyurethane Tubing: Polyurethane tubing is offered in a variety of size combinations. Plan Tech for the last 30 years has been adding onto what we call our family mold size. Currently, we can cast any OD ID configuration up to 4.5'' with no tooling set up charge with a tight tolerance of +/-.010 in one-foot sections. We also have 3 and 4-foot molds of limited sized. Special sizes are no problem for our in-house mold fabrication machine shop.
                            Tight Tolerance Urethane Tubes
Some advantages of urethane tubes:
Abrasion resistant
Limited fragmentation
Protection from marring
Longer working life
Oil and solvent resistance
Vibration damping and shock absorbance
100% load-bearing surface
Effectiveness between -20° F. and 170° F
High load-carrying
Urethane tubes are cast products and are not an extruded thermal plastic. We manufacture cast urethane tubes to custom sizing specifications. We can also have the manufacturing ability to cast large polyurethane tubes. The polyurethane tubing that we cast a wide hardness range, with formulations from 20 Shore A to 75 Shore D. We also manufacture in custom or standard diameters, lengths and wall thicknesses. If your application requires tight tolerances we have a full machine shop able grind the OD of the tubes to tight tolerances.
Our engineering department can turn your idea, sketch, drawing or CAD file into custom urethane tubes. We will reverse engineer to recreate any urethane part for production or one-off urethane pieces. The engineering department uses state of the art engineering software such as SolidWorks and our machine shop uses CamWorks for 3 axis milling. Our equipment includes CNC mills, lathes, polyurethane grinders as well as a state of the art urethane waterjet cutting machine. Secondary equipment includes sheet metal, welding, grinding, automated cutoff, broaching and more. We offer complete manufacturing capabilities for the inserts or cores required for your parts and provide one-stop shopping for all of your custom cast urethane tubes requirements.

Please Contact us for further details regarding your urethane tubing application!