Urethane Bumpers – Custom Urethane Bumpers
Urethane Bumpers ? You've come to the right source!
Urethane Bumpers are found at just about every amusement park or loading ramp around the world. Urethane Bumpers are an important part in highly demanding applications that have repeated abuse or abrasion because of urethanes unique ability to absorb an impact and return to its original shape even after years of repeated impacts. Many applications require urethane bumpers which include boat ramps, loading docks, Go-Karts and race tracks. Polyurethane bumpers can be as small as 1/4'' or as long as 8 feet! Large custom urethane bumpers and shapes are no problem for Plan Tech. Some common types of urethane bumpers that we manufacture include:
Urethane Bumpers
Urethane Bumper Feet: Urethane bumper feet are a critical part of many applications from chair leg tips to high-tech medical equipment. Custom urethane bumper feet have the ability to give traction and dampen vibration while capable of holding heavy loads. Custom urethane bumper feet will hold up best in tough applications and will outperform rubber and plastics while holding up to most outdoor conditions.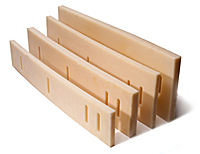 Urethane Slide Bumpers: Urethane Slide Bumpers can be custom formulated to suit your exact needs. Plan Tech specializes in manufacturing both high rebound urethane slide bumpers and low rebound urethane slide bumpers. Custom cast urethane slide bumpers will re-direct product to continue on track down an assembly line or direct products for packaging.
Urethane Bump Stops: Urethane Bump Stops are a block of urethane with a core for easy bolt on application. Urethane bump stops will absorb an impact and return to its original shape even after years of repeated abuse making urethane the number one choice. Custom profiles of urethane bump stops are no problem for us!
We Manufacture All Types Of Urethane Bumpers
Urethane Snow Plow Bumpers: Urethane snow plow bumpers have been attached to plow trucks and ATV's for decades to eliminate metal on metal contact and prevent slamming while providing some vibration protection and shock resistance to the equipment. Urethane snow plow bumpers are typically made from a solid urethane in a low-cost mold that is customized to fit any piece of equipment by water jetting holes or slots into the urethane bumper to fit OEM factory bolt locations.
Urethane Gun Recoil Bumpers: Custom cast urethane gun recoil bumpers are made from proven urethane prepolymer's from world leading chemical companies. One specialty type of polyurethane is the Adiprene line which has been in service for over a decade. The polyurethane materials are a proven material on many repeating parts making reproducing existing urethane gun recoil bumpers easily available.
Urethane Dock Bumpers: Most common urethane dock bumpers are cast from a 60A material that is about the same hardness of a car tire. Our most popular bumper is in the shape of a ball with a thru hole for a chain or rope attachment and bolts on bumpers with a molded insert that will not pull out no matter how hard a boat hits the bumper.
Custom Urethane Bumpers
Our custom manufactured urethane bumpers may have a metal insert or core to add to the integrity to the bumper or be able to fasten to another piece. Plan Tech uses the best high-quality polyurethane material available. Urethane bumpers are normally made with an ester polymer that will have less rebound and be especially strong against abrasion. Urethane custom cast bumpers are common to have a hardness of 70A but we custom manufacture urethane bumpers from 20A to 75D. We offer a full in-house machine shop dedicated to making molds and performing secondary operations if needed. Any color is available and a variety of additives can be added to enhance wear properties. A metal detectable additive can also be added for X-ray equipment required for FDA requirements. We also cast FDA Dry food approved urethane bumpers.
For over 30 years we have focused on using speed and precision to manufacture the highest quality industrial urethane bumpers to our customers. A particular strength is the breadth of our in-house capabilities which, when combined with our extensive experience, enables us to deliver tight tolerance custom urethane bumpers while maintaining the quality control and cost effectiveness our customers require. The tests are performed according to an established set of standards provided by an accredited testing organization such as the Society for Testing and Materials (ASTM) who define the procedures in detail.
Urethane Bumpers
Please Contact us to discuss your industrial urethane bumpers applications!