Urethane Bars ? You've come to the right source!
Urethane bars and urethane bar stock are one of the many custom urethane products we manufacture. At Plan Tech we supply high precision urethane bars and are one of the leading suppliers in the United States for urethane bar stock. We offer a standard line of cast urethane bars up to 6'' thick and 144'' long with widths up to 12''. All urethane bars are available in any color or durometer. A variety of additives can be added to urethane bar stock to enhance wear properties, add lubricity, UV stabilized, or to reduce static build up. We offer the industries largest selection of high-quality urethane bars and urethane bar stock some of which include:
Tight Tolerance Urethane Bars
Urethane Impact Bars:  Urethane impact bars are found in many applications requiring repeated wear and impact. Urethane impact bars will dampen the harsh slamming of a machine and often times hold up better than OEM replacements at a fraction of the cost.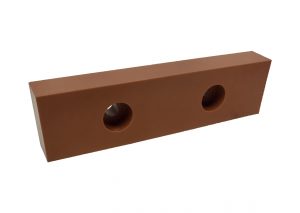 Urethane Cutting Bars: Urethane cutting bars are very popular in the paper industry where abrasion resistance or chemical resistance is a key component of the product. Urethane cutting bars have the unique ability to resist most chemicals and have high-performance in demanding applications like repetitive cutting.
                 Best Urethane Bars
Urethane Bar Stock: Urethane bar stock is custom made to your requirements for low-cost replacement parts. Made from high-quality urethane resin Plan Tech has several ways to produce tight tolerance urethane bar stock or low cast oversized bars. For 30 years we have been building our in-house tooling inventory to be able to produce urethane bar stock up to 10′ feet long, 1′ foot wide and up to 6" inches thick in any hardness or color.
Some major advantages of urethane are its ability to be abrasion resistant with a longer working life vs rubber or plastic. Urethane is also oil and solvent resistance offering vibration damping and shock absorbance. Urethane is most efficient between -20° F. and 170° F. Polyurethane bars are cast products which are superior to extruded thermal plastics that have become very popular due to its high load carrying ability. Our custom urethane bars are cast with high-quality thermoset polyester or polyether depending on the application. We manufacture cast urethane bars to custom sizing specifications.
Plan Tech's urethane bars can have a wide hardness range, with formulations from 20 Shore A to 75 Shore D. We also manufacture in custom or standard diameters, lengths and wall thicknesses. Our standard line of urethane bar stock will hold +/-.060 with the ability to hold tight tolerances by molding the bar to size.
We also have a full machine shop able grind the surface to hold tight tolerances.  Our machine shop uses CamWorks for 3 axis milling. Our equipment includes CNC mills, lathes, polyurethane grinders as well as a state of the art urethane waterjet cutting machine. Secondary equipment includes sheet metal, welding, grinding, automated cutoff, broaching and more. For over 30 years we have focused on using Speed and Precision to rapidly deliver the highest quality industrial cast urethane components and parts to our customers.
Tight Tolerance Urethane Bars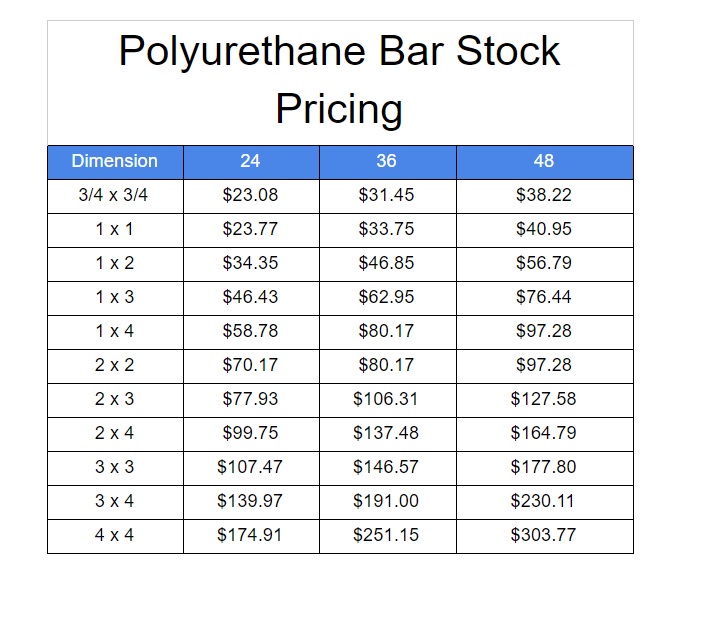 Please Contact us for further details regarding your urethane bar stock application!