Urethane Gaskets ? You've come to the right source!
Urethane Gaskets provide a superior load bearing capability and chemical resistance which makes polyurethane a natural material for urethane gaskets. Formulations to dissipate shock or transmit vibration can be tuned to your urethane gaskets requirements. Our casting and machine shop capabilities make it economical to manufacture 1, 2 or thousands of urethane gaskets. Our polyurethane material has great physical properties against tearing or ripping – plus we have a full line of urethane additives to enhance performance! We offer the industries largest selection of high-quality urethane gaskets some of which include:
Custom Urethane Gaskets
Industrial Urethane Gaskets: Industrial urethane gaskets are custom made at Plan Tech for any profile or application needed. Plan Tech will frequently decide to utilize our in-house water jet cutting capabilities and cut any profile from a urethane sheet to produce industrial urethane gaskets configurations.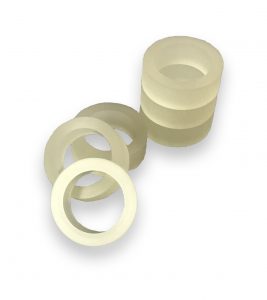 Urethane O-Rings: Urethane O-Rings are a great solution when traditional o-rings fail or are not available in the size for your custom application. Urethane o-rings are typically molded to size using compression molding. This will yield parts to print with no secondary process saving you money! Urethane o-rings are available in all durometers and sizes.
Urethane Pipe Seals: Urethane pipe seals are found in many industries which include high-pressure gas fittings while others are used in drainage applications. Urethane is a great choice when choosing a seal because of its ability to act like a gasket and the ease of being machined or cast to whatever size the application is needed for.
Urethane Spacers: Urethane spacers are commonly found in hardware stores in nominal sizes, Plan Tech specializes in high volume urethane spacers of any size for any high abuse applications. Custom sizes and shapes are no problem for Plan Tech's in-house mold making fabrication and machine shop.
Wastewater Treatment Plant Urethane Gaskets: Our highly skilled team of engineers are capable of turning formulations that transmit vibration to urethane gaskets that meet your specification. We boast a state of the art machine shop that is fully equipped with machinery which allows us to manufacture high volume urethane gaskets at a reasonably economical rate. No other brand in the industry offers wastewater treatment plant urethane gaskets at a more affordable rate than us, with our products, you can be sure of reduced operating costs.
Wear Resistant Urethane Gaskets
Plan Tech fabricates die cut polyurethane gaskets and we also water jet cut gaskets in a wide variety of thicknesses, colors and durometers. The Shore A durometers range from 60 to 90 providing a wide range. Polyurethane is a very versatile material that provides the elasticity of rubber paired with the durability and strength of metal. Urethane commonly outperforms plastic, rubber and steel due to it's ability to resist harsh environmental factors such as abrasion, heat, oil, acid, solvents and many chemicals. Plan Tech's gaskets perform extremely well for hardness, tensile, tear and compression strength as well as impact resistance. Urethane also performs well in temperatures ranging from -50°F to +180°F.
Tight Tolerance Urethane Gaskets
Plan Tech fabricates and sells high-quality cast polyurethane components for industry. For over 30 years we have focused on using speed and precision to manufacture the highest quality industrial polyurethane parts to our customers. A particular strength is the breadth of our in-house capabilities such as grinding urethane parts which, when combined with our extensive experience, enables us to deliver tight tolerance custom molded polyurethane parts while maintaining the quality control and cost effectiveness our customers require. The tests are performed according to an established set of standards provided by an accredited testing organization such as the Society for Testing and Materials (ASTM) who define the procedures in detail.
In addition to these state of the art technical capabilities, Plan Tech also has an outstanding team of dedicated employees with exceptional talents designing and manufacturing urethane molded parts. We also are very proud of the "company we keep." Our customers include many Fortune 500 companies, most of whom have been customers for 20+ years. Their drive to become industry leaders has helped us do the same.Whether you are a start-up company or global leader, we can add value to your products with our strong engineering support, polyurethane application expertise and constant focus on meeting all delivery requirements. Our rapid prototyping capabilities have also received particularly positive feedback – we frequently go from "Print to Part" in 10-15 business days! Everything we manufacture is MADE IN THE USA
Urethane Gaskets
Please Contact us for further details regarding your specialty gasket applications!