Urethane Pulleys ? You've come to the right source!
Cast urethane pulleys are common in manufacturing and shipping centers that process items through an assembly line. Urethane pulleys are manufactured at Plan Tech from start to finish – we can add any needed keyway or profile to the urethane pulley. Cast urethane pulleys have excellent physical properties and service life vs. similar materials and will operate in any condition with a smooth operation. Cast urethane has a great ability to absorb an impact and return to its original shape that will reduce vibrations and equipment downtime. We offer many types of high-quality cast urethane pulleys:
Tight Tolerance Cast Urethane Pulleys
Polyurethane Pulleys with Steel Cores: Polyurethane pulley steel core are custom cast to produce pulleys for any industry requiring a high-performance material with a long service life. Since polyurethane is FDA compliant – polyurethane pulleys with a steel core can be easily reproduced for low-cost replacements and can be cleaned using most chemicals.
Urethane sheaves and pulleys: Urethane sheaves and pulleys are frequently used to protect steel cables for lifting applications. Urethane has a great ability to absorb vibration for a smooth and quiet operation. Urethane sheaves pulleys are commonly found in elevators and amusement park rides. Plan Tech specializes in custom urethane sheaves and pulleys for any environment.
Urethane molded pulleys: Urethane molded pulleys coating increase equipment performance and longevity from offering a variety of options. Depending on the application a variety of types and durometers of urethane molded pulleys can be cast to meet any need required.
Best Cast Urethane Pulleys
Plan Tech can also manufacture any type of core needed for high strength cast urethane pulleys applications. FDA approved urethane sprockets and polyurethane gears are also available with our cast urethane pulleys including metal additives for easy detection in existing x-ray equipment. Often times customers will alter the hardness of the urethane to alter a custom application, at Plan Tech we offer urethane from extra soft 20A to rock hard 75D. This allows our customers to tailor their equipment to special applications. If you need to duplicate existing cast urethane pulleys or strip and recoat a worn out pulley we can reverse engineer your existing OEM cast urethane pulleys for often times less than OEM replacements. Common size diameters from ½" to 6″ with face widths from ½" to 6″.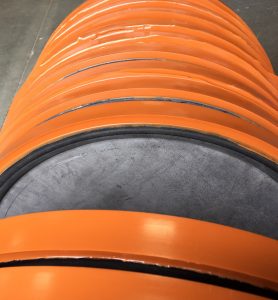 Whether you are a start-up company or global leader, we can add value to your cast urethane pulleys with our strong engineering support, polyurethane suppliers expertise and constant focus on meeting all delivery requirements. Our rapid prototyping capabilities have also received particularly positive feedback. We frequently go from "Print to Part" in 10-15 business days. This capability allows our customers to rapidly develop new products and meet the ever-increasing requirements for speed in the marketplace.
                              Cast Urethane Pulleys
Everything we manufacture is MADE IN THE USA and our production capabilities include:
In-house custom mold manufacture
Waterjet cut urethane parts
Automated adhesive application for high strength bonding to metallic and non-metallic substrates
Open cast, rotational, compression and liquid injection molding
High speed automated and manual finishing equipment
Post-secondary assembly
World class metal preparation
On-site testing
Full in-house machine shop with multiple CNC mills, lathes, grinders, welding, sheet metal fabrication and SolidWorks cad solutions
Urethane Pulleys
Please Contact us for further details regarding Cast Urethane Pulleys!