Polyurethane Sprockets ? You've come to the right source!
Polyurethane sprockets are found in many applications including machinery and conveyor systems. Some of the largest industry's for polyurethane sprockets are snowmobile manufacturers, conveyor belt systems, and farming equipment. At Plan Tech we can produce custom sprockets as small as a ½ inch or 4 feet in diameter! Urethane sprockets are an ideal choice when searching for material as it has great physical properties against tearing or ripping – plus we have a full line of urethane additives to enhance performance! Polyurethane is also non-marking and not affected by colder climates. Polyurethane sprockets also have great abrasion resistance and excellent load bearing performance. Polyurethane Sprockets have lower tooling costs vs traditional metal sprockets often times costing less than OEM replacement sprockets while exceeding the physical properties of the original parts when compared to plastic or rubber sprockets. We offer the industries largest selection of high-quality polyurethane sprockets some of which include:
Polyurethane Sprockets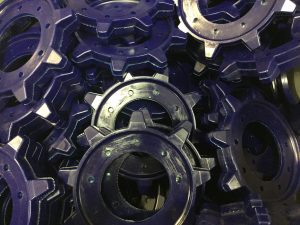 Polyurethane Conveyor Drive Sprockets: Polyurethane conveyor drive sprockets are found in many industries such as food production and health products that specify polyurethane sprockets. Since polyurethane is resistant to harsh environments from heat, chemicals, solvents and abrasion as urethane has great abrasion resistance and excellent load bearing performance.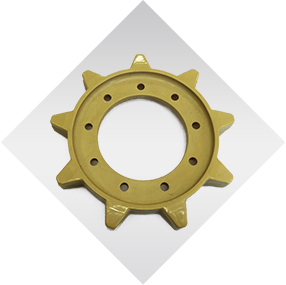 Urethane Drive Sprockets: Urethane drive sprockets are very common industrial OEM parts. Urethane drive sprockets are made from tough durable urethane normally found in many applications and will out last similar materials in any condition or climate. Urethane will absorb and impact or mismatch and run quite and smooth vs steel sprockets. Urethane Drive Sprockets are available in low volume or to reproduce a discontinued urethane drive sprocket.
Polyurethane Chain Sprockets: Polyurethane is an ideal choice of material for chain sprockets due to the ability to absorb an impact and return to the original sizes even after years of repeated abuse even in underwater or outdoor environments. Plan Tech can also reverse engineer any existing polyurethane chain sprockets in rapid time.
Urethane Gear Sprockets: Urethane Gear Sprockets are designed to operate quietly for high demand applications. Urethane has a great ability to absorb an impact resulting in smooth operation and extended run time vs similar materials. Polyurethane resins have superior physical properties making urethane gear sprockets a go-to choice when choosing a high-performance material. Urethane gear sprockets can easily be molded to size resulting in low-cost high volume applications that often times have little tooling start-up cost on new urethane gear sprockets.
Kimpex Urethane Track Sprockets: Kimpex urethane track sprockets are used in many industries requiring high-performance urethane sprockets and parts. From Snowmobiles to Agriculture Equipment Plan Tech manufactures reproduction Kimpex urethane track sprockets for customers worldwide. We are a leading urethane sprocket manufacturer in the United States and have been producing custom molded urethane parts for over 30 years!
Snowcat Urethane Drive Sprockets: Snowcat Urethane Drive Sprockets are custom cast for critical design specifications and will meet the highest quality standards. Plan Tech offers snowcat drive sprockets with up to 60% greater strength vs similar material for industries that require high-performance snowcat urethane drive sprockets. Our snowcat urethane drive sprockets provide a long service life and reliable performance that are precision cast from high-quality polyurethane material supplied by world leaders.
Tight Tolerance Polyurethane Sprockets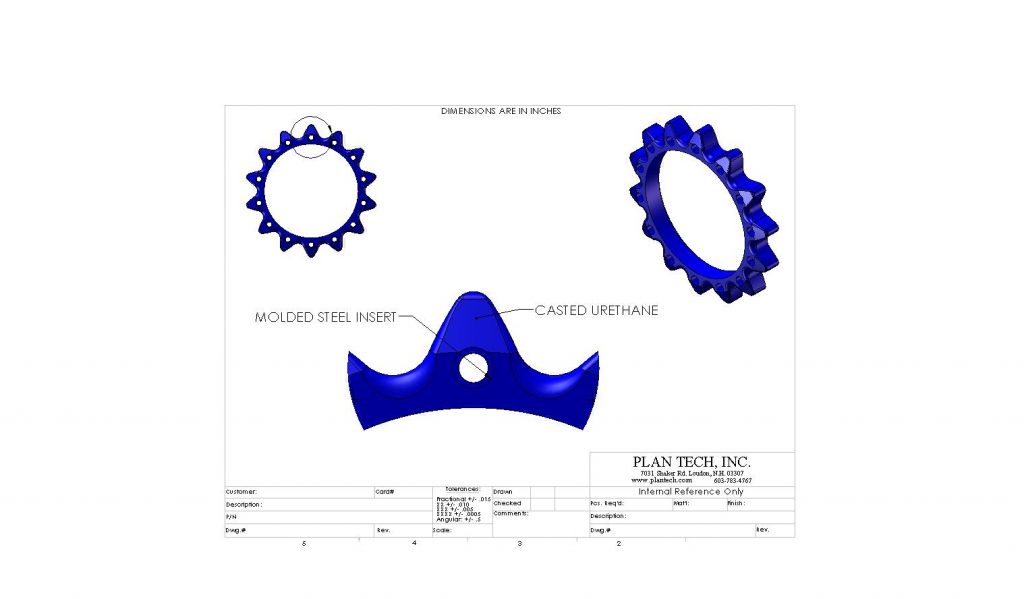 Polyurethane sprockets also have unique noise abatement properties not possible with metal parts resulting in quieter operating machines that will also help absorb vibration. In addition to manufacturing new urethane sprockets, we also offer re-coating services. Existing sprockets with a hub or core that is still in good shape can be re-coated, cleaned and refurbished with a new urethane coating. New and recovered sprockets can be manufactured to withstand a variety of load weights at variable RPMs. We can also produce replacement urethane sprockets for an existing part to match OEM profiles perfectly.
Made In USA Polyurethane Sprockets
Some of the types of Polyurethane Sprockets that we manufacture include:
• Chain Urethane Sprockets
• Roller Chain Urethane Sprockets
• Power Transmission Urethane Sprockets
• Polyurethane Drive Sprockets
• Material Handling Urethane Sprockets
• Polyurethane Gear Sprockets
• Polyurethane Conveyor Sprockets
• Industrial Urethane Sprockets
• Polyurethane Idler Sprockets
For over 3 decades we have been manufacturing and supplying new polyurethane sprockets to industrial manufacturers to improve their efficiency of their conveyor belts, production lines or snowcats. Many of these industries such as food production and health products specify Plan Tech's FDA Approved polyurethane sprockets. Our sprockets are resistant to harsh environments including heat, chemicals, solvents and abrasion. Some of the industries we supply polyurethane sprockets to include:
• Farm equipment
• Industrial manufacturing
• Snowcat drive sprockets
• Food production facilities
• Snowmobiles 
Custom Polyurethane Sprockets
We use precise measuring gauges and testing equipment to meet tight tolerances that our customers require for their polyurethane sprockets. The tests are typically performed according to an established set of standards provided by an accredited testing organization such as the Society for Testing and Materials (ASTM) who define the procedures in detail. For over 30 years we have focused on using speed and precision to rapidly deliver the highest quality industrial cast polyurethane sprockets to our customers. Our custom cast polyurethane facility maintains world-class capabilities and equipment, combined with excellent quality systems. A particular strength is the breadth of our in-house capabilities which, when combined with our extensive experience, enables us to rapidly deliver tight tolerance polyurethane sprockets while maintaining the quality control and cost effectiveness our customers need.
Casting Polyurethane Sprockets
Please Contact us for further details regarding custom cast polyurethane sprockets!