Urethane Liners ? You've come to the right source!
Urethane liners provide a superior abrasion resistance capability and chemical resistance which makes polyurethane a natural material for cast urethane liners. Our casting manufacturing facility and machine shop capabilities make it economical to manufacture 1, 2 or thousands of polyurethane liners for your industrial application. Our polyurethane material has great physical properties against tearing or ripping – plus we have a full line of urethane additives to enhance performance! The industrial liners produced at Plan Tech are made from only the very best of polyurethane materials manufactured by renowned chemical producers. We offer the industries largest selection of high-quality urethane liners some of which include:
Custom Urethane Liners
Industrial Hopper Liners: No other rubber hopper liners produced by any other brand offer better protection against abrasion and chemicals than ours. And our application of speed and precision allow us to consistently manufacture only the best in quality urethane hopper liners.
Abrasion Resistant Urethane Form Liners: We have the facility and technical ability to manufacture rubber form liners of any size. Our in-house machine shop is fully equipped with world-class facilities, and our team of engineers is exceptionally talented with technical capabilities that rank them among the industry's best.
Urethane Chute Liners: Why our urethane chute liners? Urethane is a better alternative than steel with regards to the reducing of the cost of maintenance. Plan Tech is capable of reducing the frictional force of a mixer which makes it a lot easier to turn the mixer. Our rubber chute liners offer this feature and lot more. Plan Tech's engineering department can turn your idea, sketch, drawing or CAD file into custom urethane parts.
Best Sheave Liners: Sheave liners manufactured by us in our state of the art facilities are a perfect example of high-quality cast urethane parts.
Chemical Resistant Urethane Chute Liners: Plan Tech's chute liners are the perfect solution for offering protection against chutes from abrasive compounds and metal hoppers.
Wear Resistant Liners
As one of the numerous products that find application in the agricultural and industrial bulk handling and processing division, durability and excellent service are some of the factors taken into consideration as far as the purchasing of abrasion-resistant liners is concerned. At Plan Tech, we only make use of world-class products and polyurethane materials that guarantee tougher and stronger abrasion-resistant liners that boast exceptional elastic ability. With our abrasion-resistant rubber liners, you can conveniently extend the service life of your installation's steel parts as well as reduce the cost of maintenance. Plan Tech's industrial urethane liners are also oil and solvent resistant offering superior abrasion resistance, vibration damping and shock absorbance.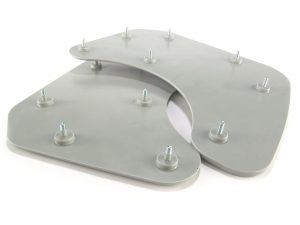 Purchasing the abrasion-resistant polyurethane liners manufactured in the state of the art in-house machine shop at Plan Tech will also allow you to provide the ideal solution for all forms wear issue. For three decades and counting, we have been manufacturing urethane products that depict quality and make us one of the go-to companies in the industry where you can get abrasion-resistant liners that are of unbeatable quality. It doesn't matter what the requirements of the application are, you can count on the expertness of our team of engineers to design and manufacture abrasion-resistant liners that will meet your exact expectations.
                     Abrasion Resistant Urethane Liners
Plan Tech a leader in cast urethane manufacturing, process's urethane additives from the world's leading chemical companies. Whether its enhanced lubricity for high abrasion resistance applications or for anti-static wheels for shoppers who don't want to be zapped touching a metal cart. Having more than 30 years experience in the polyurethane industry provides Plan Tech the specific knowledge of incorporating application-specific polyurethane additives. We custom formulate a full line up of superior abrasion resistance additives. One of the most commonly used additives we produce and incorporate is Armorglide providing superior abrasion resistance for high wear applications. Plan Tech manufactures the highest quality industrial cast urethane parts to our customers. A particular strength is the breadth of our in-house capabilities such as urethane compression molding and grinding urethane parts which, when combined with our extensive experience, enables us to deliver tight tolerance custom rubber bars while maintaining the quality control and cost-effectiveness our customers require. The tests are performed according to an established set of standards provided by an accredited testing organization such as the Society for Testing and Materials (ASTM) who define the procedures in detail.
Are you interested in cast Abrasion Resistant Urethane Liners? Please Contact us so we can help solve your requirements and work with you on your specific application!