Metal Backed Urethane ? You've come to the right source!
Metal backed urethane parts are extremely common for industrial applications and for the last 30+ years Plan Tech has mastered many different techniques to mold or cut the finished product. We offer the industries largest selection of high-quality Metal Backed Urethane Parts some of which include:
Metal Backed Urethane Parts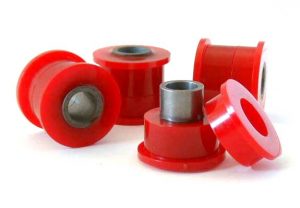 Metal Backed Urethane Sheets: Metal backed urethane sheets are commonly found in replacement parts for assembly lines. Made from high-quality material specified to your requirements, metal backed urethane sheets can be cast up to 4′ foot square pieces. When used in assembly line applications the metal backed urethane sheets will be fastened in ways to act like a bumper or guide to keep product flowing in the right direction. 
Expanded Metal Backed Urethane: Expanded metal backed urethane is used for many applications due to the low cost per sheet and how easily it is available. Commonly known as an impacted pad expanded metal backed urethane will act much the same with a core for added integrity and strength.
Expanded Metal Covered Urethane: Expanded metal covered urethane is used for many applications due to the low cost per sheet and how easily it is available. It is also a great choice when the part needs to be stiff against bending yet still hold all the properties of urethane on the surface. Expanded metal covered urethane is also a great choice when trying to add extra strength to a bonded surface like a metal plate that will be covered in urethane as well.
 Aluminum Backed Urethane:  Aluminum backed urethane is an ideal way to make 100's of parts from just one aluminum backed urethane sheet. At Plan Tech we have a state of the art facility that can media blast the aluminum plate of any thickness and apply a chemical bonding adhesive that will be as strong as the urethane material.  We have the ability to cast up to 4' x 4' aluminum backed urethane sheets any thickness with a tolerance of +/-.030.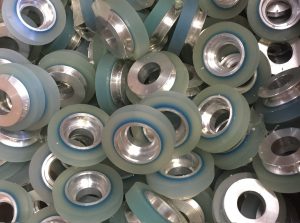 One of our customers for metal backed polyurethane parts utilizes an aluminum backed urethane bar to crimp a bag closed. Each part is heated in this application and also seals the bag under the extreme force. Sometimes the metal backed "core" will be cut to size the urethane will be molded into the part. Frequently Plan Tech will cast a larger sheet which will yield many parts. We have found using the latest technology from Flow water jet we can easily cut any size or profile metal backed urethane parts with extremely tight tolerances. Each metal core will be processed in our clean room charged with positive air pressure to ensure that foreign contaminants weakening the bonded surface. Each core or plate is de-greased and media blasted before it is coated with a layer or chemical bonding adhesive. We continuously test our bonding urethane to metal process across thousands of parts to destruction ensuring our customers are achieving the best urethane bond to metal possible.
Tight Tolerance Metal Backed Urethane Parts
Taking these extra steps ensures that the metal backed parts will never delaminate and have an extended life expectancy over similar materials.  FDA requirements or no prints is not an issue, we can reverse engineer existing parts and match any requirements needed. Working with the end user allows us to rapidly prototype parts to ensure quality aftermarket metal backed urethane parts.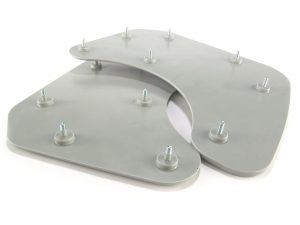 In our production facility, we a Flow Waterjet and Waterjet cut urethane parts are just one of the many cast urethane services that Plan Tech provides. We utilize a "state of the art" Flow Water jet 4′ x 8′ Integrated Flying Bridge waterjet cutting machine. The dynamic head virtually eliminates the taper normally associated with waterjet cut urethane parts while improving cutting speeds, part accuracy and tolerances in cutting flat stock materials.
Our capabilities include:
Taper elimination by Active Tolerance Control
Versatility – cut with water only or abrasive
Secondary finishing elimination
Part tolerance and geometry improvement
True part stacking ability with consistent tolerance layer to layer
Vacuum assist technology for carbon fiber and other laminates
Metal Backed Urethane Sheets
Please Contact us for further details about aluminum backed urethane parts!