Bonding Urethane To Metal – Bonding Polyurethane To Metal
Bonding urethane to metal is at the core of Plan Tech's capabilities. We continuously test our bonding urethane to metal process across thousands of parts to destruction ensuring our customers are achieving the best urethane bond to metal possible. We have the latest Albert tensile testing equipment for precise peel test requirements on soft durometers. Another critical piece of bonding urethane metal are the facilities.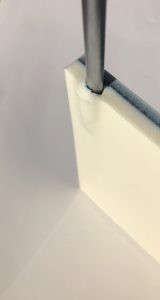 We have a 5,000 square foot dedicated clean room dedicated for bonding urethane to metal. Even the air pressure inside the cleanroom is precisely measured to ensure only fresh air is being pumped and heated at all times. All metal cores and parts are degreased and washed before they enter one of our many media blasters. Most parts will then go on a rotary and automatic spraying equipment to ensure an even perfect coat of bonding agent. This level of detail allows us to handle any volume of bonded polyurethane molded parts. Every detail down to what our employees wear in and out of the metal preparation department is closely monitored to ensure no contamination enters.
After 30 years of bonding urethane to metal, we feel our bond is the strongest in the world. We have focused on using speed and precision to rapidly deliver the highest quality industrial cast urethane products and FDA-approved urethane parts to our customers. Our custom cast polyurethane facility maintains world-class capabilities and equipment, combined with excellent quality systems. A particular strength is the breadth of our in-house capabilities which, when combined with our extensive experience, enables us to rapidly deliver cast urethane parts while maintaining the quality control and cost effectiveness our customers need.
In addition to these state of the art technical capabilities, Plan Tech also has an outstanding team of dedicated employees with exceptional talents and industry-leading expertise. We also are very proud of the "company we keep." Our customers include many Fortune 500 companies, most of whom have been customers for 20+ years. Their drive to become industry leaders has helped us do the same.
Please Contact us for further details regarding Bonding Urethane To Metal!