Abrasion resistant urethane bearings designed and developed by Plan Tech are manufactured from high-quality prepolymers. They possess outstanding abrasion resistance and tensile strength over other traditional materials in the industry. At Plan Tech, delivering top-notch quality is our specialty regardless of the number of bearings you require for an application with our 3D CAD Design Software Solidworks which allows our molds to be made in-house with speed, accuracy, and precision.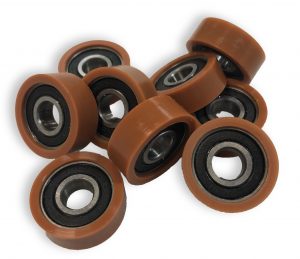 It is important to note that while other types of bearings tend to rapidly deteriorate when exposed to harsh chemicals, abrasion resistant rubber bearings produced in our in-house machine shop and state of the art facility remains unequivocally resistant — reducing downtime and replacement costs. Our team of highly talented technicians are always on standby to take your ideas or bearing designs and turn them into abrasion resistant urethane bearings that will best suit your application.  We cast, maintain and stock complete sets of abrasion resistant urethane bearings for many standard sizes, and can grind our abrasion resistant coated bearings to very tight tolerances.
Our abrasion resistant bearings are cast in multiple hardness ranges to meet your application needs. They have impressive tear resistance, which in turn prevents fasts aging and wearing. Also, their resistance to a wide range of chemical agents has placed them as the very best in the industry. Plan Tech a leader in cast urethane manufacturing, process's urethane additives from the world's leading chemical companies. Whether its enhanced lubricity for high abrasion resistance applications or for anti-static wheels for shoppers who don't want to be zapped touching a metal cart. Having more than 30 years experience in the polyurethane industry provides Plan Tech the specific knowledge of incorporating polyurethane additives:
Superior Abrasion Resistance Additives: Plan Tech is a leading cast polyurethane supplier that also has a custom line of additives. One of the most commonly used additives is Armorglide providing superior abrasion resistance for high use applications.
Are you interested in Abrasion Resistant Urethane Bearings? Please Contact us so we can help solve your requirements and work with you on your specific application!