Abrasion resistant urethane rollers from Plan Tech are generally manufactured from highly durable urethane formulation that holds up to the toughest environments. Our abrasion resistant urethane rollers provide high wear resistance and a low coefficient of friction during application.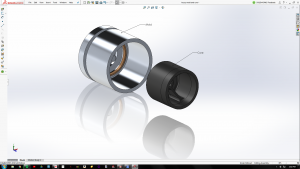 Our abrasion resistant polyurethane rollers are casted and molded with ultra-tough materials and have proven to cut downtime and cost of parts. In our world, quality is a big deal. We've successfully built 30 years reputation for reliability, precision, and service, and our dedicated team of technicians has made Plan Tech an industry leader in the production of abrasion resistant urethane rollers. Every product we make is manufactured from a concept to actual output with the highest quality at our facility.
Our abrasion resistant rollers offer long run durability and extreme resistance to harsh environments of heat, solvents, corrosion, chemicals, and abrasion. We can help you select the perfect abrasion resistant rubber rollers for your application. In need of custom designs? We can help with molding, engineering, prototyping, and even testing. We can produce bespoke profiles to suit your exact requirements.
When it comes to abrasion resistant rubber rollers our massive inventory, quality control, and unparalleled customer service are just some of the secrets to our success in the industry. Plan Tech a leader in cast urethane manufacturing, process's urethane additives from the world's leading chemical companies. Whether its enhanced lubricity for high abrasion resistance applications or for anti-static wheels for shoppers who don't want to be zapped touching a metal cart. Having more than 30 years experience in the polyurethane industry provides Plan Tech the specific knowledge of incorporating polyurethane additives:
High Durometer Urethane Additives:  Air Products Founded in 1940 provides world-leading food curative that can be used in the manufacture of polyurethane elastomers intended to contact dry food. Air Products has built a reputation for its innovative culture, operational excellence.
Are you interested in Abrasion Resistant Urethane Rollers? Please Contact us so we can help solve your requirements and work with you on your specific application!