Aluminum backed urethane is an ideal way to make 100's of parts from just one aluminum backed urethane sheet. At Plan Tech we have a state of the art facility that can media blast the aluminum plate of any thickness and apply a chemical bonding adhesive that will be as strong as the urethane material.  We have the ability to cast up to 4' x 4' aluminum backed urethane sheets any thickness with a tolerance of +/-.030.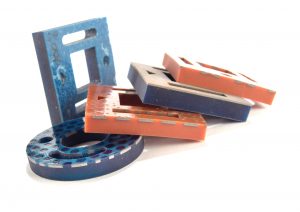 Most aluminum backed sheets will later be cut into smaller parts to match the profile for the application. Many applications include clamps, brake shoes, vibration control, and assembly lines. Aluminum backed urethane sheets have a great ability to absorb and impact and return to its original shape even after years of abuse. Available in any profile needed to match the unique application Plan Tech can manufacture the aluminum backed urethane to match. We can also reverse engineer your existing parts to match OEM specs often times for less than OEM replacements! On average urethane will outperform rubber 3 to 1 making urethane an ideal choice. Often times we can add additives that will increase abrasion resistance and add lubricity to keep products from sticking. An anti-static additive is also common to reduce any static build up from sliding fraction.
Whether you are a start-up company or global leader, we can add value to your products with our strong engineering support, material selection expertise and constant focus on meeting all delivery requirements. Our rapid prototyping capabilities have also received particularly positive feedback. We frequently go from "Print to Part" in 10-15 business days. This capability allows our customers to rapidly develop new products and meet the ever-increasing requirements for speed in the marketplace.
Please Contact us for further details regarding custom cast aluminum backed urethane sheets!