Anti-static polyurethane sheets are a material excellent in mechanical strength, wear resistance and used for industrial applications. It is wear-resistance with good damping characteristics, high resilience performance and can be used to manufacture sheets of various thickness, width, length, and color. Plan Tech utilizes only first-rate polyurethane materials from internationally renowned resin producers for the production of our antistatic urethane sheets to ensure they are of premium quality. Our anti-static sheets provide controlled, dissipation of electro-static charges emitted from other neighboring materials during handling, assembly, and shipment of the product.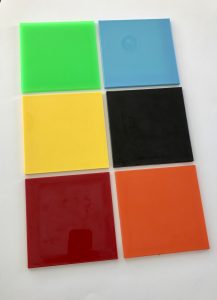 Plan Tech provides anti-static polyurethane sheets that outperform competitive products, in providing long-term reliability of antistatic performance and physical product protection. We produce thermoplastic Anti-static sheets are frequently used as flexible sleeves, connectors, dust control sleeves, bin dischargers, screeners, hoppers, vibratory and gyratory sifters, and packaging equipment.
Key features of anti-static polyurethane sheets:
Good damping characteristics
Wear resistance
FDA
Excellent wear strength
Anti-static
Very flexible and can be welded
We are focused on using speed and precision to manufacture the highest quality anti-static polyurethane sheets for our clients and customers. Please contact us regarding more information on anti-static polyurethane sheets. For over 30 years we have focused on using speed and precision to manufacture the highest quality industrial cast urethane parts to our customers. A particular strength is the breadth of our in-house capabilities such as urethane compression molding and grinding urethane parts which, when combined with our extensive experience, enables us to deliver tight tolerance custom urethane parts while maintaining the quality control and cost effectiveness our customers require. The tests are performed according to an established set of standards provided by an accredited testing organization such as the Society for Testing and Materials (ASTM) who define the procedures in detail.
Are you interested in custom anti-static polyurethane sheets? Please Contact us so we can help solve your requirements!