Belt guide urethane wheels last longer than the rubber wheels, this is due to the strong characteristics of urethane which makes it the best choice over rubber and plastics. Plan Tech manufactures belt guide urethane wheels that can withstand wet and dry environments. More so, we deliver world-class products when it comes to the manufacture of urethane related products and machinery. Plan Tech makes use of 100 percent urethane in the manufacture of all equipment and products. Our belt guide urethane wheels are designed by experienced engineers to help you in the workplace and its environment.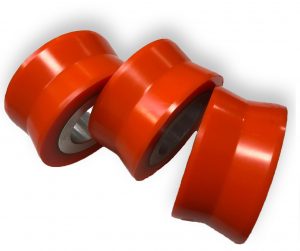 Belt guide urethane wheels are used in the assembly, material handling and manufacturing operations industry. Plan Tech carefully select only quality material for the manufacture of belt guide urethane wheels and other urethane related products. Plan Tech belt guide urethane wheels provide durability, improved strength and corrosion resistance over belt guide rollers made with rubber.
FEATURES
Available in any color of your choice
Durometers include 70A, 75A, 80A, 83A, 85A, 88A, 90A, 92A, and 95A
Highly abrasive resistant
The presence of urethane reduces the chance of severe belt damage due to roller wear causing Sharp edges.
Easy installation
The hour Glass shape offers the ultimate belt control by preventing the belt from climbing up and over the guide roller
Custom made belt guide urethane wheels are made to specification
The advantages of urethane far outweigh those of metals and plastics. It isn't a questionable fact that metal parts wear out three times faster than urethane materials. Below are some of the advantages urethane holds over metal and plastic:
Urethane vs Metals and Plastics
Better wear
As far as resisting abrasion and corrosion are concerned, no other elastomer material perform better than polyurethanes. This is one aspect where their performance is more efficient than plastics and most metals.
Cost Efficiency
The production of metal parts can be very expensive, and the reason is that, unlike urethanes that can be casted easily, the casting of metal parts cannot be done without the process of welding and the use of machines.
Are you interested in Belt Guide Urethane Wheels? Please Contact us so we can help solve your requirements and work with you on your specific application!