Best polyurethane bumpers perform better than traditional rubber bumpers. Plan Tech's custom manufactured bumpers are strong, hard, durable and come in various sizes. Polyurethane has the ability to absorb shocks and abrasions and always return to their original shape and sizes. Also, they can be of a harder durometer and are seldom affected by shocks. This is one of the main reasons why it is better to use Plan Tech's best polyurethane bumpers than the conventional rubber bumpers.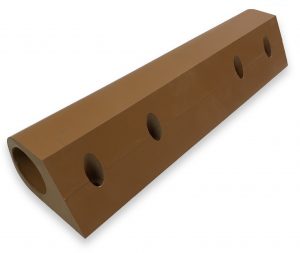 Our best polyurethane bumpers are quite durable and are used in a variety of applications. Applications range from gun recoil bumpers to loading docks. As polyurethane has a longer life than various conventional rubber or plastics, Plan Tech's best polyurethane bumpers are used across America. Polyurethane can absorb shocks and return to its original shape, it is used in places that have repeated impacts. Since polyurethane can be cast into any size or shape, we can design and create the perfect polyurethane bumper for your application according to your need. We only manufacture utilizing the top quality polyurethane resins from world's top chemical companies. Our engineers make sure that all the best polyurethane bumpers that we manufacture are strong, durable and are of top-notch quality.
We can offer superior abrasion resistance additives: Plan Tech is a leading cast polyurethane supplier that also has a custom line of additives. One of the most commonly used additives is Armorglide providing superior abrasion resistance for high use applications.Whether you are a start-up company or global leader, we can add value to your products with our strong engineering support, urethane polymer experience and constant focus on meeting all delivery requirements. Our rapid prototyping capabilities have also received particularly positive feedback – we frequently go from "Print to Part" in 10-15 business days!
Please Contact us regarding more information onPlan Tech's Best Polyurethane Bumpers!