Best urethane bushings available in the industry should be able to offer the following:
Increased Tire Life
Decreased Deflection
Improved Responsiveness
Reduced Braking Distances
Improved Performance
Increased Safety
The best urethane bushings are produced at Plan Tech and are an excellent option for street performance. Our best urethane bushings offer a significant increase in performance but still absorbs enough NVH for a comfortable ride.
You can count on us at Plan Tech to produce the highest quality urethane bushings from design to the finished product. The tooling cost of our urethane bushing is relatively inexpensive, and we are capable of custom making them to your specifications. This makes us the go-to company for the best urethane bushings on the market. We are here to help you become a renowned brand in your industry by giving you the very best.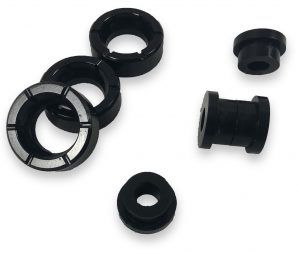 With our over 30 years' experience of manufacturing the best rubber bushings, you can count on us to handle your bushing project from a simple sketch or design to completion at a fast turnaround. Our rubber bushings are of high quality and last longer than those of our competitors. They save you time and money with top level quality. Plan Tech's polyurethane bushings won't increase noise or harshness while providing a lifetime of handling improvement and safety.
Plan Tech a leader in cast urethane manufacturing, process's urethane additives from the world's leading chemical companies. Whether its enhanced lubricity for high abrasion resistance applications or for anti-static wheels for shoppers who don't want to be zapped touching a metal cart. Having more than 30 years experience in the polyurethane industry provides Plan Tech the specific knowledge of incorporating polyurethane additives:
Flame Retardant Urethane Additives: PAG is a well-established manufacturer and global supplier of flame retardants and smoke suppressants for polyurethane applications warehousing material throughout the United States, PAG is able to respond to customers in a timely fashion and provide cost savings. PAG Holdings is committed to providing the highest quality products with unsurpassed service.
Are you interested in finding the best urethane bushings? Please Contact us so we can help solve your requirements and work with you on your specific application!