Cast polyurethane rods produced here at Plan Tech are durable, tough, chemical, abrasion and crack resistant. They are one of our specialty urethane products, which we have been manufacturing for the past 30 years. The cast urethane rods produced in our in-house cast polyurethane facility and machine shop that is fully equipped with state of the art equipment are nothing short of world-class quality, and that's one of the reasons our cast polyurethane rods stand apart from those of other brands.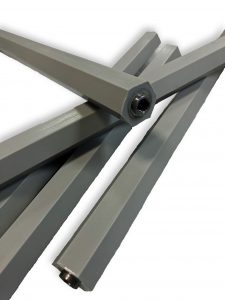 Our cast urethane rods are known for their enhanced physical properties, which we have been able to maintain over the years due to our application of speed and precision. Our team of well adept engineers and our first-grade machinery allows us to produce only the best in quality urethane parts. It, therefore, isn't a surprise that our cast urethane rods have been tried, tested and proven to offer remarkable wear, abrasion, chemical, and corrosion resistance.
Our highly skilled and experienced technicians and engineers are capable of producing cast urethane rods of any profile or specification. Therefore, no matter the profile of cast polyurethane rods you seek, we guarantee you that you will find it in our list of premium quality cast urethane rods. No other cast rubber rods in the industry offer better performance capability and service life than ours. Plan Tech a leader in cast urethane manufacturing, process's urethane additives from the world's leading chemical companies. Whether its enhanced lubricity for high abrasion resistance applications or for anti-static wheels for shoppers who don't want to be zapped touching a metal cart. Having more than 30 years experience in the polyurethane industry provides Plan Tech the specific knowledge of incorporating polyurethane additives:
Anti-Static Urethane Additives:  Lubrizol's Lanco Stat LI 100® additives dissipate static electricity in urethane wheels and custom parts. Since 1928 Lubrizol has engineered products worldwide and with rapid response and excellent customer service. Lubrizol has built a reputation in high-performance additives such as Lanco Stat LI 100® for industries worldwide.
Are you interested in Cast Polyurethane Rods? Please Contact us so we can help solve your requirements and work with you on your specific application!