Cast polyurethane washers are used in a variety of industries which includes construction, aerospace, electrical and automotive. They have numerous applications and are essential to the function of many engineering processes and machinery.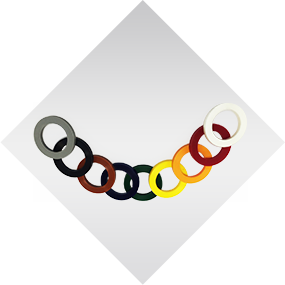 The physical properties of the cast polyurethane washers we produce offer unbeatable quality, which makes them second to none in the industry. With our custom washers, you can be sure of polyurethane products that provide remarkable resistance to wear, corrosion, chemicals, and abrasion.
At Plan Tech, we manufacture our rubber washers in a broad spectrum of colors and sizes. Known for their excellent performance, they are non-marking and will return to their original shape after use; this allows them to maintain their optimal efficiency even after long years of service. It doesn't matter what the conditions of the environment of application is, our cast rubber washers have been tested and proven to be able to withstand harsh environment as well as weather extremities.
Having been in the business of producing one of the best quality of polyurethane products for more than 30 years. Customers and prospects can always count on us to meet their requirements for cast polyurethane washers with perfection regardless of the specific needs of the application. Plan Tech a leader in cast urethane manufacturing, process's urethane additives from the world's leading chemical companies. Whether its enhanced lubricity for high abrasion resistance applications or for anti-static wheels for shoppers who don't want to be zapped touching a metal cart. Having more than 30 years experience in the polyurethane industry provides Plan Tech the specific knowledge of incorporating polyurethane additives:
UV Protection Urethane Additives: Ferro is a leading global supplier of ultraviolet UV protection technology-based functional coatings and color solutions in urethane products protecting color pigments for urethane industries that are heat stable, lightfast, and chemical and weather resistant.
Are you interested in Cast Polyurethane Washers? Please Contact us so we can help solve your requirements and work with you on your specific application!