Cast urethane rods are made and designed by Plan Tech to withstand extreme conditions while maintaining the durability needed in the most demanding industrial applications. What that means is our cast urethane rods are made to be super tough, they are resistant to crack, wear, abrasion and harsh chemicals.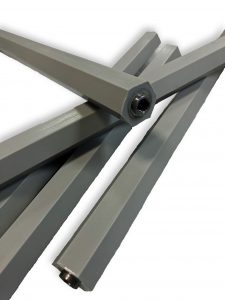 Our proprietary polyurethane formula allows our cast urethane rods to be one of the most durable available – they are virtually indestructible and lasts significantly longer than conventional rubbers and plastics. Our engineers offer custom diameters, hardness, lengths, and colors with little or no tooling costs. By producing our cast urethane rods in custom sizes, we eliminate waste from drop-offs which in turn saves costs for our customers.
Manufactured right here in the United States to ensure quality control, our cast rubber rods have been used in a variety of industries with several important applications and benefits due to its elastomeric properties.
To ensure we do not compromise quality for quantity and vice-versa, our technical team who rank among the industry's finest always apply speed and precision during the production of our cast polyurethane rods. Also, our in-house capabilities help in the reduction of production cycle time from receipt of order to final delivery, and we use advanced technologies to ensure your order meets all critical dimensions. Plan Tech strives to use the latest in design software technology for the designing of complex urethane molds. We utilize SolidWorks to design all of our open face and compression molds per customer specifications. When we have completed our design that has been approved by the customer we machine them using CAMWorks at our in-house machine shop. This creates a faster "concept to production" environment to produce superior parts for our customers. Below is a list of the software used for designing urethane molds:
CAMWorks: CAMWorks is the most advanced CAM software available and is fully integrated inside SolidWorks. In CAMWorks the design and manufacturing model become one-and-the-same. Any changes to the design are automatically updated in the machining operations and tool paths, thereby eliminating the need to constantly reprogram parts due to design changes.
Are you interested in Cast Urethane Rods? Please Contact us so we can help solve your requirements and work with you on your specific application!