Clear polyurethane sheets manufactured by Plan Tech are extremely durable and have set the standard for other competitors in the industry. Popular and in high demand, our clear polyurethane sheets have been used in a good number of applications. They are wear resistant, have high tear strength and are incredibly resistant to oils, grease, and most cleaning agents. Plan Tech's clear polyurethane sheets exhibit the same excellent physical properties, durability and chemical resistance as other polyurethane formulations with the added advantage of being as clear as glass.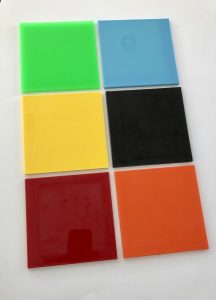 Our team of dedicated, experienced chemists, designers, engineers and sales personnel will be on standby to assist you in the development of your project from inception to completion. We occupy a modern in-house facility, fully-furnished with state of the art equipment to meet the challenges of your polyurethane project. Our clients also have the flexibility of having their clear polyurethane sheets custom made. With its outstanding color stability for outdoor applications, clients can also request for tinted or pigmented formulations. At Plan Tech, our clear polyurethane sheets can be custom made in many shapes, sizes and levels of hardness. With over 30 years of experience, you are sure to get the very best clear polyurethane sheets on the market.
Benefits and Advantages of Clear Polyurethane Sheets
Polyurethane is a name synonymous with versatility. The mechanical properties of polyurethane unique elastomer can be manipulated and separated through polymeric creativity making problem-solving easy with a high-performance ability that is second to none. The benefits and advantages of this material are limitless.
Below are some of the benefits and advantages of polyurethane:
Filling the Gap Between Rubber and Plastic
Polyurethanes are outstandingly able to withstand more loads than rubber because they are harder than rubber and yet more flexible than plastics. Their flexibility is accountable for their strength and remarkable ability to resist impact.
Abrasion Resistance
Polyurethanes are the perfect choice for applications against severe wear regardless of low temperature. For some decades now, they have been the most used materials for environments that are highly abrasive owing to their super ability to resist abrasion. No other form of elastomers, metals, and plastics has a better abrasion resistance than polyurethanes. Their abrasion resistance ability is rated to be 10 times better than what other materials can provide.
Oil and Chemical Resistance
Like their abrasion resistance ability, the properties of polyurethane materials are highly capable of resisting oil and chemicals. This enables them to maintain stability (with minimal swelling) in water or oil etc. If you are looking for elastomer materials to use in subsea, then polyurethanes should be your ideal choice.
Please Contact us for further details or to answer your questions about clear polyurethane sheets!