Clothes dryer urethane wheels are manufactured from a unique polyurethane system developed over the years by Plan Tech's team of technicians and chemical engineers. Our in-house machine shop is equipped with state-of-the-art facilities, and the breadth of our capabilities makes us even more efficient in providing industry-leading solutions and products to meet the satisfaction of our customers.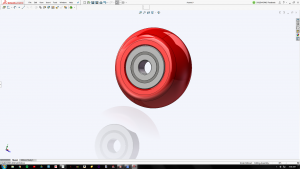 Our team of engineers produces clothes dryer urethane wheels that are truly unique, designed to withstand elevated temperatures over an extended life cycle. Plan Tech's clothes dryer urethane wheels are the preferred solution in the industry, it features reduced energy consumption and can be used where chemical resistance and noise are critical performance characteristics. Our clothes dryer urethane wheels offer excellent resilience and the ability to resist cutting and abrasion. It also features a smooth, no-parting-line crown tread design which aids in turning and rollability. Our clothes dryer urethane wheels is an exceptional wheel developed specifically for clothes dryer manufacturing applications. We can manufacture according to your designs, drawing or custom applications.
Available in various sizes, our clothes dryer urethane wheels do not make squealing noises when it is in use or in motion. By combining resilience and abrasion resistance, with unsurpassed tensile strength, our clothes dryer urethane wheels guarantees superb performance in a different atmosphere. Some advantages urethane parts have are:
Higher load bearing
Not even plastics and metals can resist significant impact like urethanes. Where urethanes can offer an outstanding load-bearing performance, most plastics and metals will succumb to the shock and impact of higher loads and eventually break down.
Elastomeric ability
The elastomeric memory of urethanes is second to none; they have the ability to regain their initial size regardless of the rigidness at which they are extended or stretched to a significant extent. Whereas many plastics and metals can't regain their original size having been extended beyond their breaking point or elastic limit.
Temperature Resistance
Better than metals and plastics, urethanes are capable of maintaining their high-performance ability such as their elasticity, etc., even under such temperature extremity that is below -60°F.
Lightweights
Urethanes significantly weigh lighter than other elastomers, metals, and plastics inclusive causing them to perform better even without any solid backing.
Please Contact us for further details or to answer your questions about Clothes Dryer Urethane Wheels!