Coated urethane rollers are manufactured in our state of the art in-house machine shop by our in-house engineers who are the best at what they do!. Plan Tech's coated urethane rollers can be modified to improve lubricity or have remarkable ability to resist static build up in demanding applications. Our coated urethane rollers are made from the very best of customizable premium-grade resin that can be tailor-made to meet any specification or application. We only make use of resin purchased from globally renowned chemical dealers, and that explains why the physical properties of our polyurethane rollers are superior to those of OEM rollers.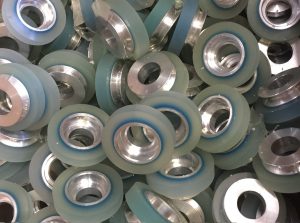 The coated urethane rollers we manufacture, possess the extraordinary ability to meet the chemical requirements of special applications. Our utilization of speed and precision ensures that our polyurethane rollers like all our other urethane products are highly efficient. Therefore, with our coated urethane rollers, you can be certain of exceptional abrasion resistance, enhanced wear properties, sufficient chemical resistance, and long service life. Our highly dedicated team of engineers are always committed to the course quality production which makes us the go-to company for coated urethane rollers that depict quality and performance. Send us your old rollers, and we would leave no stone unturned in transforming them into master class urethane coated rollers at a very affordable budget.
Our custom cast polyurethane facility maintains world-class capabilities and equipment, combined with excellent quality systems. A particular strength is the breadth of our in-house capabilities which, when combined with our extensive experience, enables us to rapidly deliver cast urethane parts while maintaining the quality control and cost effectiveness our customers need. In addition to these state of the art technical capabilities, Plan Tech also has an outstanding team of dedicated employees with exceptional talents and industry-leading expertise. We also are very proud of the "company we keep." Our customers include many Fortune 500 companies, most of whom have been customers for 20+ years. Their drive to become industry leaders has helped us do the same.
Please Contact us for further details regarding coated urethane rollers!