Compression molded polyurethane parts are manufactured by pouring urethane material into a clamshell mold; the mold is then put under a lot of pressure and heat. The pressures on the top of the plate force the casting material to fill all the mold areas and dispel air. When the material is cured then it's removed from the mold. The compressed molded polyurethane parts are then separated from the material.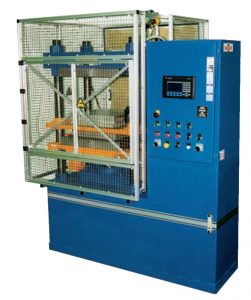 Compression molded polyurethane parts are very important especially for parts that have a non-standard shape or for parts that must be highly tight tolerance. Compression Molded Polyurethane parts are used to ensure the part meets specified tolerances. More so compression molded parts are cost effective and save time with less secondary operations.
Plan Tech recommends compression molded polyurethane parts because every part comes out perfect and there are no holes, voids and bubbles in the material. Our compression molded urethane parts help to reduce excess flash and secondary processing. It is also suitable for ultra-large basic shape production in sizes beyond the capacity of extrusion techniques. Plan Tech also makes it easier for you by determining the design, delivery, and price required to meet your specification.
Our specialized in-house design engineers ensure that we are in constant research to discover more innovative ways in which products can be improved continually with emphasis on manufacturing a quality product every time. Plan Tech a leader in Compression Molded Polyurethane Parts and open cast urethane manufacturing, process's urethane additives from the world's leading chemical companies. Whether its enhanced lubricity for high abrasion resistance applications or for anti-static wheels for shoppers who don't want to be zapped touching a metal cart. Having more than 30 years experience in the polyurethane industry provides Plan Tech the specific knowledge of incorporating polyurethane additives into Compression Molded Polyurethane Parts:
Flame Retardant Urethane Additives: PAG is a well-established manufacturer and global supplier of flame retardants and smoke suppressants for polyurethane applications warehousing material throughout the United States, PAG is able to respond to customers in a timely fashion and provide cost savings. PAG Holdings is committed to providing the highest quality products with unsurpassed service.
Are you interested in compression molded polyurethane parts? Please Contact us so we can help solve your requirements and work with you on your specific application!