Conveyor belt urethane blades are one of the top quality urethane products that we have been manufacturing at Plan Tech over the past three decades. Our in-house capabilities help in reducing production cycle time from receipt of order to the final delivery and utilize advanced technologies in our machine shop to ensure that your conveyor belt polyurethane blades meet all critical dimensions.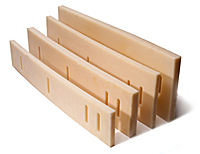 Our proprietary polyurethane formula allows our conveyor belt rubber blades to be one of the most durable available. They are designed to exhibit very good mechanical properties, and as such, they have very high resistance to weathering, as well as gas or oil. It is true that one of the drawbacks with traditional rubber conveyor belt blades is wear. However, our exceptional team of engineers leave no stone unturned in ensuring that the conveyor belt blades we manufacture at Plan Tech are capable of not only resisting wear but also abrasion and other chemicals, etc.
Our conveyor belt rubber blades are available in different hardness and size that fit and can be designed to meet the requirements of any application. Also, our team of engineers is well versed at turning sketches, samples or production ideas into conveyor belt urethane blades products. Whether you are a start up company or global leader, we can add value to your products with our strong engineering support, urethane polymer experience and constant focus on meeting all delivery requirements. Our rapid prototyping capabilities have also received particularly positive feedback – we frequently go from "Print to Part" in 10-15 business days! Everything we manufacture is MADE IN THE USA! Our production capabilities include:
In-house custom mold manufacturer
Waterjet cut urethane parts
Automated adhesive application for high strength urethane bonding to metal and non-metallic substrates
Open cast, rotational, compression and liquid injection molding
High speed automated and manual finishing equipment
Post-secondary assembly
Are you interested in cast Conveyor Belt Urethane Blades? Please Contact us so we can help solve your requirements and work with you on your specific application!