Corrugated urethane rollers are now found in applications across almost every industry around the world. Below are some of the areas where various sectors have relied on corrugated urethane rollers:
-to provide traction and grip which in turn guarantee high bearing capabilities for a heavy load.
-for noise reduction.
-to prolong the service life of machinery.
-for resistance to extreme temperatures (whether hot or cold).
-for resistant to wear and tear, abrasion, chemicals, oil and other solvents.
-Non-marking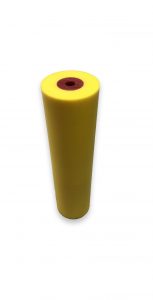 Our corrugated urethane rollers are among the best you can find in the market, and we offer customized corrugated urethane rollers of any durometer, shape, size and colors. Our technicians who are hardworking specialist's leave no stone unturned in ensuring that our corrugated urethane rollers are of world-class quality capable of offering, smooth rotation, exceptional ability to absorb shock and vibration as well as the ability to tolerate extreme temperatures.
Also, our turnaround time for roller recovering services for existing and used rollers is super fast which helps in reducing downtime. With us, you are guaranteed of corrugated urethane rollers that are second to none in the industrial marketplace. Machining cast urethane parts require specialized equipment and training. Here at Plan Tech we utilize 3D CAD Design Software Solidworks and make all of our own molds in-house for speed, accuracy and precision. We control the entire process from design to manufacture. Custom mold making is at the very core of what we do. Our machine shop includes CNC Lathes, Mills and Grinders for machining cast urethane parts. We also have manual mills as well as a sheet metal and welding area. In addition, we have a Flow Water jet with 48×96 inch sheet capabilities and can cut a list of materials like Polyurethane, Steel, Stainless Steel, Aluminum, Carbon fiber, and most plastics.
Please Contact us for further details or to answer your questions about corrugated urethane rollers!