Custom Molded Urethane Dunnage parts have been manufactured at Plan Tech for over 30years! Plan Tech will calculate and recommend the correct mechanical properties to protect the most delicate components to large construction equipment. From prototype to high volume our sales team of engineers will work on every detail for truly custom molded urethane dunnage parts for any profile on any application.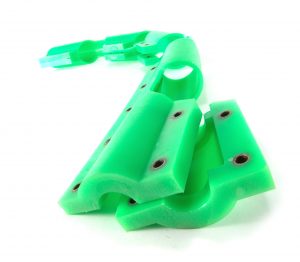 Custom Molded Urethane Dunnage
Many factors are involved in designing custom molded urethane dunnage parts with cost being most important. We also provide replacement existing custom molded urethane dunnage parts that will provide maximum performance for any shipping needs. Our urethane dunnage parts and will meet or exceed OEM specifications offering increased wear resistance over traditional rubber products, making urethane an ideal choice for shipping delicate parts.
Custom Molded Urethane Dunnage Parts
In addition to manufacturing new polyurethane parts, we also offer recoating services. Existing dunnage parts with a metal core that is still in good shape can be re-coated, cleaned and refurbished with a new polyurethane coating extending the life of the custom molded urethane dunnage parts. New and recovered cores can be manufactured to withstand a variety of load weights at variable RPMs. We can produce new or replacement dunnage parts. Plan Tech recently cast reusable crane lift shipping rollers for shipping and manufacturing of large paper rolls weighing upwards of 20,000 pounds. All mechanical dunnage parts are available in a variety of lengths, durometers, and dimensions.
Tight Tolerance Urethane Dunnage Parts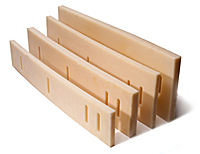 There are many advantages to using polyurethane resins for the manufacturing of custom molded urethane dunnage parts. They are known for their chemical, oil, and grease resistance, and are typically excellent at resisting abrasion and, as such, are not easily torn. This can explain why they are often used to produce synthetic rubbers. Whether you are a start-up company or global leader, we can add value to your products with our strong engineering support, urethane polymer experience and constant focus on meeting all delivery requirements. Our rapid prototyping capabilities have also received particularly positive feedback – we frequently go from "Print to Part" in 10-15 business days!
Please Contact us so we can discuss your Custom Urethane Dunnage application!