Custom molded urethane products are manufactured all year round at Plan Tech. We have produced countless custom molded urethane products over the years, and these parts are used in several industries worldwide. From the mildest to extremely harsh applications and from simple to complex designs, our proprietary blend of urethane formula can be made to meet any specification or requirement.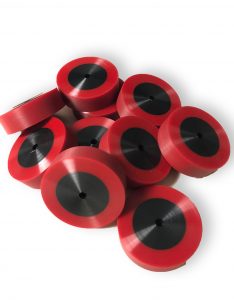 We provide custom molded rubber parts for manufacturing solutions for both high and low volume production. You can trust Plan Tech's 30 plus years of custom molding experience to work for you. Speed and precision are applied in both short and long production, the flexibility, color, hardness, and durability of our custom molded urethane products make them the top choice of engineers around the world. That amongst others are what we put into consideration at Plan Tech throughout the production process of our products.
We make sure that the custom molded rubber products manufactured are highly resistant to acids, harsh chemicals, solvents, corrosion, wear, and abrasion. In addition to that, our team of engineers produces quality custom molded urethane products that can withstand harsh weather conditions and it can be manufactured in any color, size, shape, and durometer of your choice. Plan Tech also has an outstanding team of dedicated employees with exceptional talents designing and manufacturing urethane molded parts. We also are very proud of the "company we keep." Our customers include many Fortune 500 companies, most of whom have been customers for 20+ years. Their drive to become industry leaders has helped us do the same.
Whether you are a start up company or global leader, we can add value to your products with our strong engineering support, urethane polymer experience and constant focus on meeting all delivery requirements. Our rapid prototyping capabilities have also received particularly positive feedback – we frequently go from "Print to Part" in 10-15 business days. Everything we manufacture is MADE IN THE USA!
Are you interested in cast Custom Molded Urethane? Please Contact us so we can help solve your requirements and work with you on your specific application!