Custom shaped urethane bumpers are manufactured in our world class cast polyurethane manufacturing facility and when necessary machined at our in-house machine shop. At Plan Tech we always utilize only the best of urethane materials from internationally recognized chemical and resin producers. We cast / pour the urethane driectly into a mold to make the part and then machine it using our world-class urethane machinery. Our team of highly skilled engineers possesses the technical know-how to manufacture different varieties of custom shaped urethane bumpers which boast superior physical property. So, no matter what application you require custom shaped urethane bumpers for, you can be confident of finding the exact urethane bumpers that meet your specification from our line of world-class custom shaped urethane bumpers.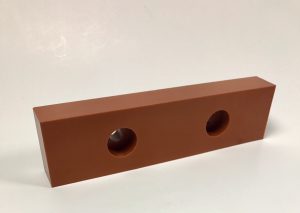 Our application of accuracy and speed during the production process of our urethane bumpers allow us to not only manufacture the product in premium standard but to also meet the high-volume demand of our numerous customers in record timing. The custom urethane bumpers we offer are capable of remarkably absorbing high-level impact, and they also boast impressive ability to resist wear, abrasion, corrosion, and chemicals. In other words, no other brand in the industry produces custom shaped urethane bumpers that offer better performance ability and longer service life than ours. And the best part is that; our custom shaped polyurethane bumpers possess the capacity to perform at their optimal best even after many years of regular usage.
With the vast experience we have acquired from producing top-notch urethane parts, you can, therefore, entrust us with the project of your custom shaped urethane bumpers and expect nothing short of world-class production. Whether you are a start-up company or global leader, we can add value to your products with our strong engineering support, polyurethane chemistry experience and constant focus on meeting all delivery requirements. Our rapid prototyping capabilities have also received particularly positive feedback – we frequently go from "Print to Part" in 10-15 business days!
Please Contact us so we can help answer your questions regarding custom shaped urethane bumpers!