Custom urethane brackets manufactured by Plan Tech gives you the best in both style and performance. Our custom urethane brackets are truly unique in design and function, and they are used primarily in decorative applications. Plan tech produces some of the most customized urethane brackets on the market.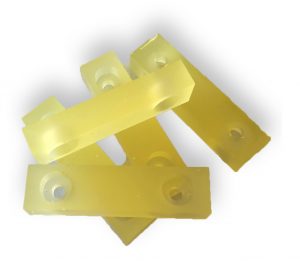 Our custom urethane brackets are manufactured by using pure polyurethane formulation. Polyurethane is used because of its excellent quality, which includes:
Cost-effective
Color variety
Durability
Ozone resistance
Resistant to oil and solvent
Tear resistance
Plan Tech's engineering and technical team are made up of experienced professionals with over 30 years in the analyzing, production and customization of custom rubber brackets and other urethane products. We are committed to delivering a world-class service to our clients, as we always do. Plan Tech also provides custom-made brackets to meet your desired specification, and that will work best in the application or purpose of use.
In addition, we help our clients work with their budget and come up with lasting custom polyurethane brackets. Plan Tech also offers technical support and help you choose the perfect design that will believe will be suitable for your company. Plan Tech strives to use the latest in design software technology for the designing of complex urethane molds. We utilize SolidWorks to design all of our open face and compression molds per customer specifications. When we have completed our design that has been approved by the customer we machine them using CAMWorks at our in-house machine shop. This creates a faster "concept to production" environment to produce superior parts for our customers. Below is a list of the software used for designing urethane molds:
GrabCAD: GrabCAD is a startup that has created a free cloud-based collaboration solution that helps engineering teams manage, view and share Cad files. GrabCAD is used by companies big and small to support the design of physical products of all sorts – from basic screws to jet engine brackets at GE, to robotics that zap germs.
Are you interested in Custom Urethane Brackets? Please Contact us so we can help solve your requirements and work with you on your specific application!