Custom urethane plates that are manufactured by Plan Tech are top of the line! So, if you are in need of high-quality custom urethane plates, then you are in the right place.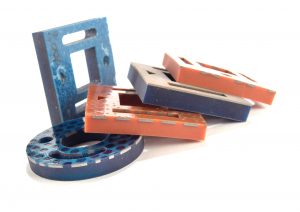 We use 100% pure urethane to manufacture our custom urethane plate for a good number of industries.  Urethane possesses some strong characteristics which enables engineers to custom mold them to virtually any size, durometer, and design.
Our custom urethane plates are recommended by experts around the world because of its outstanding overall performance. They are shock-absorbing, can be made to different textures and are available in several colors. More so, our urethane formulation has the ability to absorb shock in the case of impact.
Our custom urethane plates withstand more loads because of their flexibility property. Also, they are abrasion resistant, even in high wear environments. Urethane also offers high resiliency; they can withstand high vibration frequency and are very tough material.
Plan Tech specializes in the manufacture of custom rubber plates. Our in house engineers will not just help you design and customize your custom rubber plates, we also help you determine the perfect specification depending on your application. With over 30 years of experience – you can't go wrong with Plan Tech. Urethane is found inside every vehicle and machinery used in material handling applications. Some polyurethane can stretch twice their size and return to original shape while others provide vibration dampening and extreme resistance to abrasion. Since 1954 Polyurethane compounds have been continually modified and allow processors to custom formulate material to fit many applications. here are many advantages to polyurethane resins. They are known for their chemical, oil, and grease resistance, and are typically excellent at resisting abrasion and, as such, are not easily torn. This can explain why they are often used to produce synthetic rubbers. Here is a trusted Polyurethane supplier:
COIM Group: Founded in 1962, COIM specialized in polycondensation products (esters), polyaddition (polyurethanes) and several other chemical specialty products. The high quality and variety of its products make COIM Group one of the main leaders of the field.
Are you interested in Custom Urethane Plates? Please Contact us so we can help solve your requirements and work with you on your specific application!