Custom urethane suspension bushings are not only found in most of the cars we drive today but in most heavy equipment as well due to the ability for urethane to outlast rubber 3:1. Urethane has a great ability to absorb and impact and return to its original size even after years of abuse. This is an ideal situation for custom urethane suspension bushings no matter what the application is.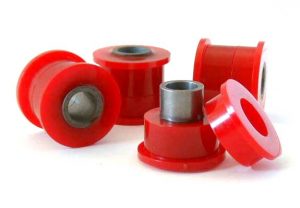 Plan Tech specialties in reproducing discounted bushings as well as high volume custom urethane suspension bushings.  The ability to reproduce prototype pieces as well as high volume allows us to be able to work with small repair shops as well as equipment manufacturers. Custom urethane suspension bushings are available in any color as well as hardness. While most are supplied in a 90A material special applications are no problem. Custom urethane suspension bushings are also found in conveyor systems and bottling facilities. Plan Tech also offers custom suspension bushings to meet FDA requirements with additives like "PolyMag" stainless powder. If the part were to fail the PolyMag additive will be detected during X-ray inspection of the products. Just about any size or shape can be molded at Plan Tech allowing us to produce any custom urethane suspension bushings for your needs.
For over 30 years we have focused on using speed and precision to manufacture the highest quality industrial custom urethane suspension bushings to our customers. A particular strength is the breadth of our in-house capabilities which, when combined with our extensive experience, enables us to deliver tight tolerance custom urethane parts while maintaining the quality control and cost effectiveness our customers require. The tests are performed according to an established set of standards provided by an accredited testing organization such as the Society for Testing and Materials (ASTM) who define the procedures in detail.
Please Contact us for further details regarding Custom Suspension Bushings.