Custom urethane tubing for machining stock is available in any hardness for the most demanding applications. Using high-quality polyurethane prepolymers from world leading chemical suppliers Plan Tech is able to produce high-performance custom urethane tubing for any application.
Plan Tech's in-house mold system has countless OD and ID configurations in 12'' sections. We find most of our customers will use our custom urethane tubing to be machined into hundreds sometimes thousands of parts. 95A durometer hardness will turn quickly for many different washer and spacers combinations. Soft durometers need to be ground and at Plan Tech we have a urethane machine shop with dedicated machines designed for theses jobs with tolerances as tight as +/-.005.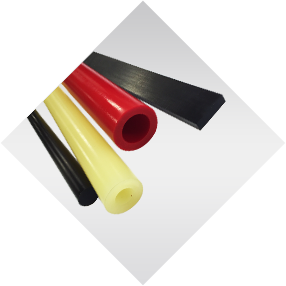 Plan Tech can supply any size urethane tubing with tolerances as tight as +/-.010 in any hardness. Custom urethane tubing is also chemical resistance to most commercially used chemicals and has a recommended temperature range from -20 to 170F. At Plan Tech we can produce custom urethane tubing with a turned or ground finish for any hardness coating. Custom urethane tubing can be designed to be flexible in one area with dampening or sealing characteristics and also rigid in other areas allowing for impact and abrasion resistance. When measuring durometer specifications Plan Tech utilizes ASTM-D2240-Durometer Hardness standards for precise measurements – exact to our customer's requirements.
Our machine shop includes CNC Lathes, Mills and Grinders for machining custom urethane tubing. We also have manual mills as well as a sheet metal and welding area. In addition, we have a Flow Water jet with 48×96 inch sheet capabilities and can cut a list of materials like Polyurethane, Steel, Stainless Steel, Aluminum, Carbon fiber, and most plastics. We create complex molds for our in-house use as well as many of the components that are molded into customer products. Molds are machined from aluminum or tool steel depending upon tool life requirements. The inserts and cores that we manufacture are made from a wide variety of metals and plastics including UHMW PE, ABS, aluminum and steel.
Please Contact us for further details regarding custom urethane tubes!