Custom urethane washers can be cast in any durometer from soft to hard as plastic for many different applications including the automotive industry and vibration protecting on large industrial electric motors. We can also cast precision custom urethane washers from 1 to 100k with excellent lead times. Plan Tech for over 30 years has been dedicated to supplying our customers with nothing but the highest quality custom urethane washers for the most demanding applications around the world. We have continued to keep building out capabilities including custom one-off machines for just cutting custom urethane washers.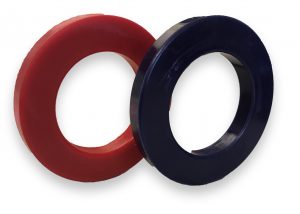 We have over a million possible choices when searching for a urethane washer with no expensive tooling cost to our customers. With our high tech automatic equipment, we will manufacture custom urethane washers to your exact specifications often times for less than OEM replacements. Plan Tech has a variety of additives that can be added to enhance wear properties, add lubricity, UV stabilized, flame retardant, or to reduce static build up. Custom urethane washers provide longer service life when compared to plastics and rubber with lower noise abatement properties when compared to metals. Other urethane benefits include extensive wear-resist with abrasion resistance. Excellent tear strength with elasticity-solvent resistance.
Our engineering department can turn your idea, sketch, drawing or CAD file into custom urethane parts. We will reverse engineer to recreate any urethane part for production or one-off urethane pieces. The engineering department uses SolidWorks and our machine shop uses CamWorks for 3 axis milling. Our equipment includes CNC mills, lathes, polyurethane grinders as well as a state of the art urethane waterjet cutting machine. Secondary equipment includes sheet metal, welding, grinding, automated cutoff, broaching and more. We offer complete manufacturing capability for the inserts or cores required for your parts and provide one-stop shopping for all of your custom cast polyurethane products.
Please Contact us for further details regarding your custom urethane washers applications!