Dogbone Polyurethane springs are the springs that help the dogbone parts run smoothly and keep them in place. Our urethane dogbone springs are unique and are made to withstand rigorous industrial applications. Like other types of urethane products manufactured by Plan Tech, these dogbone polyurethane springs are made from urethane because of its strong properties.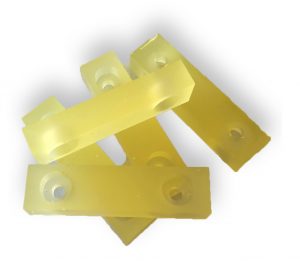 No other brand in the United States and the world over has a better state of the art in-house machine shop that is well equipped with sophisticated machinery than Plan Tech. It is, therefore, safe to say that we have all it takes (including an engineering team whose technical expertise is second to none in the industry) to turn your imagination into world-class urethane products that help set you apart from your competitors.
Our dogbone polyurethane springs have more flex properties; they are wear, chemical and abrasion resistant. They are also denser, have tight tolerance and will not readily fatigue but one of the reasons why our dogbone polyurethane springs are considered the best in the industry is its ability to return to its original size and shape no matter the application.
Our experienced in house engineers are readily available to help you with designs. We also manufacture custom made urethane dogbone springs based on your specifications. Plan Tech strives to use the latest in design software technology for the designing of complex urethane molds. We utilize SolidWorks to design all of our open face and compression molds per customer specifications. When we have completed our design that has been approved by the customer we machine them using CAMWorks at our in-house machine shop. This creates a faster "concept to production" environment to produce superior parts for our customers. Below is a list of the software used for designing urethane molds:
Mastercam: Mastercam is one of the oldest developers of PC-based computer-aided design / computer-aided manufacturing (CAD/CAM) software. They are one of the first to introduce CAD/CAM software designed for both machinists and engineers. Mastercam's comprehensive set of predefined toolpath enables machinists to cut parts efficiently and accurately.
Are you interested in cast Dogbone Polyurethane Springs? Please Contact us so we can help solve your requirements and work with you on your specific application!