Dry Film Urethane Rollers like every other urethane products manufactured in the state of the art in-house cast polyurethane facility at Plan Tech are made with the goal of meeting the maximum satisfaction of our customers.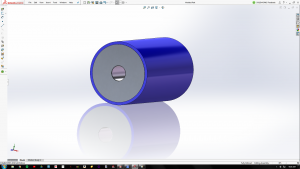 Our dry film urethane rollers are therefore made from only the best of raw materials from universally recognized chemical companies who are leaders in their sector. We have been manufacturing dry film urethane rollers for over the past three decades and thus; boast remarkable expertise that is second to none in the industry.
So, it doesn't matter what shape, size or hardness of dry film urethane rollers you want, our team of technicians are capable of turning your sample, sketch, idea or imagination into a perfect piece of production that will exceed your expectation. With our application of speed and accuracy, we have been consistently meeting the high volume demands of our numerous clients without compromising quality. Plan Tech's dry film urethane rollers excellently resist corrosion, abrasion, and chemicals.
They are also renowned for their ability to withstand harsh weather conditions and maintain their optimum efficiency even after long service years. No other brand in the industry can offer rollers that provide better physical properties than those produced at Plan Tech which makes us the go-to company in the sector where the needs for Dry Film Urethane Rollers can be met with perfection. A large number of industries make use of this material. Just one of the industries benefiting from the high performance of polyurethane parts is:
Mining and Quarrying
As far as the mining industry goes, the parts of polyurethane are applied in so many areas like the urethane conveyor belt scrapers, urethane seals, pipelining, hydrocyclones, agitators, etc. The reason is that of their impressive ability to resist abrasion and their high resilience to tough conditions.
Are you interested in cast dry film urethane rollers? Please Contact us so we can help solve your requirements and work with you on your specific application!