Dual Durometer Urethane Parts ? You've come to the right source!
Dual Durometer Urethane Parts are a great choice for material because it is capable of handling extreme loads; urethane will also help absorb vibration and shock. Plan Tech has been manufacturing new custom dual durometer parts for over 30 years! Some common dual durometer urethane components that we manufacture have a 75D durometer hard inside diameter that is chemically bonded to a softer outside surface. We utilize the best in class polyurethane from world's leading polyurethane manufacturers and manufacture the industries largest selection of high-quality Dual Durometer Molded Parts some of which include:
Dual Durometer Parts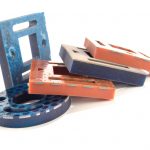 Dual Durometer Urethane Rollers: Dual durometer urethane rollers have an endless combination of sizes that can be manufactured. Multi hardness and dual durometer urethane rollers offer unique solutions which can be manufactured for a wide range of industrial applications.
Dual Durometer Urethane Wheels: Dual durometer urethane wheels are typically cast with a 75D durometer core or rim which is our hardest, toughest material available. Being able to cast dual duro wheel cores allow our customers to deviate away from the traditional cast aluminum or steel cores significantly reducing cost and lead time.
Dual Durometer Urethane Tubes: Dual durometer urethane tubes are one of the many specialty components that we manufacture in dual durometer. Urethane has an incredible ability to be non-magnetic with an endless combination of sizes that can be manufactured. We manufacture dual durometer tubes in 12'' sections with our in-house mold system.
Dual Durometer Urethane Sheets: Dual durometer sheets increase equipment performance and longevity by offering a variety of product options. Dual durometer urethane sheets have become very popular due to the ability of urethane to be non-magnetic.
There are several different types of durometer scales used to measure the hardness properties of materials. The two most recognized durometer scales are the ASTM D2240 type A and D scales. Scale A is designed to measure the hardness of softer urethane polymers, like our Dual Durometer Rollers. Scale D is designed to measure harder urethane polymers, like our Dual Durometer Wheels.
Custom Dual Durometer Parts
When measuring durometer specifications Plan Tech utilizes ASTM-D2240-Durometer Hardness standards for precise measurements – exact to our customer's requirements. Our custom and proprietary molded products are found in many industries and we manufacture and design all of our own molds in-house for speed, accuracy, and precision. We control the entire process from the design to the manufacturing of dual durometer molded parts. Plan Tech has an outstanding team of dedicated employees with exceptional talents designing and manufacturing urethane molded parts. We also are very proud of the "company we keep." Our customers include many Fortune 500 companies, most of whom have been customers for 20+ years. Their drive to become industry leaders has helped us do the same.
A particular strength is the breadth of our in-house capabilities such as urethane compression molding and grinding urethane parts which, when combined with our extensive experience, enables us to deliver tight tolerance custom urethane parts while maintaining the quality control and cost effectiveness our customers require. The tests are performed according to an established set of standards provided by an accredited testing organization such as the Society for Testing and Materials (ASTM) who define the procedures in detail.  Whether you are a start-up company or global leader, we can add value to your products with our strong engineering support, urethane polymer experience and constant focus on meeting all delivery requirements. Our rapid prototyping capabilities have also received particularly positive feedback – we frequently go from "Print to Part" in 10-15 business days. Everything we manufacture is MADE IN THE USA!
Please Contact us for further details regarding your Dual Durometer Urethane Molded Parts!