Dual Durometer Urethane Rollers
Dual durometer urethane rollers have an endless combination of sizes that can be manufactured. Dual durometer urethane rollers are very popular due to the 75 duro hard core that is chemically bonded to a softer 90A duro outer roller surface. The durometer, sizes or lengths can be adjusted to suit almost any industrial requirement. A variety of additives can be added to enhance wear properties, add lubricity, UV stabilized, or to reduce static build up for your dual durometer urethane roller.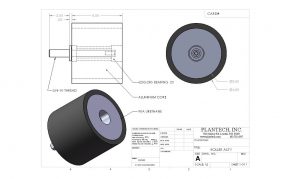 Multi hardness and dual durometer urethane rollers offer unique solutions which can be manufactured for a wide range of industrial applications. Dual durometer urethane products can be designed to be flexible in one area with dampening or sealing characteristics and also rigid in other areas allowing for impact and abrasion resistance. Dual durometer urethane parts can be used as bushings, seals, couplings, rollers, and a wide variety of other industrial applications.
Dual Durometer Urethane Rollers
Turned finishes cost less and work well for tolerance requirements in the 0.005″ to 0.010″ range. Ground finishes cost more but can achieve precise finishes and tolerances in the 0.0005″ to 0.005″ range. Dual durometer urethane rollers can also be turned or ground with tapered or crowned finishes. Tight tolerances are no problem for us!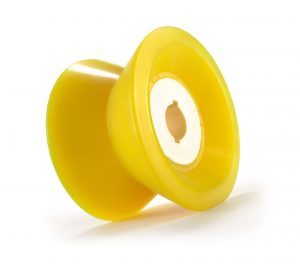 Polyurethane is very similar to a rubber or plastic. Unlike nylon or UHMW, urethane can be compounded to produce very soft parts, as low as 30A Durometer, or up to very hard, 75D Durometer. Polyurethane is ideal in high demand applications were normal rubber would fail. It is found inside every vehicle and machinery used in material handling applications. Some polyurethane's can stretch twice their size and return to original shape while others provide vibration dampening and extreme resistance to abrasion like our dual durometer urethane rollers. Since 1954 polyurethane compounds have been continually modified and allow processors to custom formulate material to fit many applications.
Please Contact us for further details regarding your dual durometer urethane rollers!