Exercise equipment polyurethane rollers are currently the perfect training equipment on the market. At Plan Tech we manufacture exercise equipment polyurethane rollers in various sizes, forms, lengths, and diameters. The exercise equipment polyurethane rollers are used for sports and fitness and most often in exercise equipment.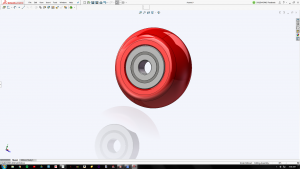 Plan Tech uses 100% polyurethane as the raw material for the manufacture of exercise polyurethane rollers because of its strong and high abrasion properties. The exercise equipment rollers manufactured by Plan Tech is made to meet your fitness needs. It is easy to grip, durable, stable and cost-effective. Our team of engineers manufactures rollers and wheels used in cardio machines such as treadmills, ellipticals and strength training equipment like kettlebells, resistance bands and dumbbells. Plan Tech also produces parts and components used fitness equipment for all-purpose level, which is of high reliable quality.
Why Use Polyurethane for exercise equipment?
Exercise equipment poly rollers are tough, these rollers won't degrade, sag or bend easily. Exercise equipment made from urethane has high resistance to degradation with superior engraving capabilities. More so, urethane is more tear resistant when compared to other materials and this is why it is used in the production of rollers and wheels. Another great thing about urethane is that it allows you to customize your logos, and choose from a variety of colors. Are you in need of the perfect equipment rollers for personal use or professional fitness? Plan Tech is the right team for you; we will help you go through the selection process. Our exercise equipment ranges from urethane dumbbells, urethane plates, roller bars with urethane grips, urethane Olympic bar, urethane kettlebells, cardio equipment weight, and barbells, strength training boxing and custom made urethane rollers and wheels for exercise equipment.
For over 30 years we have focused on using speed and precision to manufacture the highest quality industrial cast polyurethane parts to our customers. A particular strength is the breadth of our in-house capabilities which, when combined with our extensive experience, enables us to deliver tight tolerance cast polyurethane parts while maintaining the quality control and cost effectiveness our customers require.
Are you interested in Exercise Equipment Polyurethane Rollers? Please Contact us so we can help solve your requirements and work with you on your specific application!