Exercise machine urethane wheels are designed specifically to strengthen muscles and tone the arms, abs, leg, back, and shoulders; encouraging abdominal flexibility, strength, and stability. Exercise machine urethane wheels made by Plan Tech are designed with a primary focus on a workout routine and body aesthetics.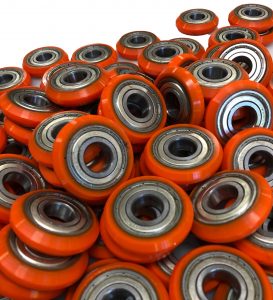 Our in-house machine shop is always ready to build excellent exercise machine rubber wheels, and we are capable of yielding hundreds of parts in a single run, which allows us to have thousands of exercise machine polyurethane wheels manufactured on a monthly basis. We have molding design operations that are of various variety using both compression molding and rotational force. We cast the urethane into a mold to form the urethane wheel and then we use the world-class machinery in our fully equipped facility to machine the product.
We offer quality, durable and top of the line exercise machine wheels that help to increase workout performance and effects. During workout, our exercise machine urethane wheels offer unparalleled support, comfort, and ease of use.
We have them available in different forms plus our technicians are highly versed when it comes to producing exercise machine rubber wheels that meet the specific requirement of our customers. Plan Tech strives to use the latest in design software technology for the designing of complex urethane molds. We utilize SolidWorks to design all of our open face and compression molds per customer specifications. When we have completed our design that has been approved by the customer we machine them using CAMWorks at our in-house machine shop. This creates a faster "concept to production" environment to produce superior parts for our customers. Below is a list of the software used for designing urethane molds:
GrabCAD: GrabCAD is a startup that has created a free cloud-based collaboration solution that helps engineering teams manage, view and share Cad files. GrabCAD is used by companies big and small to support the design of physical products of all sorts – from basic screws to jet engine brackets at GE, to robotics that zap germs.
Are you interested in cast Exercise Machine Urethane Wheels? Please Contact us so we can help solve your requirements and work with you on your specific application!