Expanded metal covered urethane is used for many applications due to the low cost per sheet and how easily it is available. It is also a great choice when the part needs to be stiff against bending yet still hold all the properties of urethane on the surface.
Expanded Metal Covered Urethane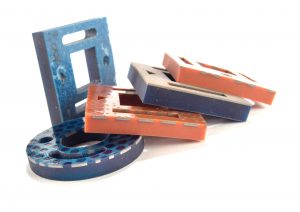 Expanded metal covered urethane is also a great choice when trying to add extra strength to a bonded surface like a metal plate that will be covered in urethane as well.  For instance, if the part in question is a metal plate covered with urethane and the customer wants a high strength bond we will weld the expanded metal to the plate then cover everything with urethane creating a high strength mechanical bond with the added strength from the chemical bonding agent. The expanded metal will act like a chain around the urethane that is welded to the plate. This bond between the chemical properties and the mechanical ability of the expanded metal will yield a bond unmatched to traditional bond practices. We have a full in-house machine shop equipped with a Flow waterjet capable of cutting expanded metal covered urethane into any shape needed.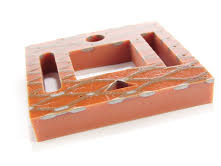 Plan Tech makes all of its own molds in-house for speed, accuracy and precision. We control the entire process from design to manufacture. Mold making is at the very core of what we do. Our machine shop includes CNC Lathes, Mills and Grinders. We also have manual mills as well as a sheet metal and welding area. We have a Flow Water jet with 48×96 inch sheet capabilities and can cut a list of materials like Polyurethane, Steel, Stainless Steel, Aluminum, Carbon fiber, and most plastics. We create complex molds for our in-house use as well as many of the components that are molded into customer products. Molds are machined from aluminum or tool steel depending upon tool life requirements. The inserts and cores that we manufacture are made from a wide variety of metals and plastics including UHMW PE, ABS, aluminum and steel.
Please Contact us for further details regarding your expanded metal covered urethane application!