FDA approved polyurethane rods are custom cast from Plan Tech in many different OD sizes and lengths. Our most common specification for FDA approved polyurethane rods are for conveyor systems that use the FDA approved urethane rods to help guide product much like a bumper for sorting.
Being able to tailor the physical properties of our urethane allows us to add a PolyMag additive in case any piece of the polyurethane rod were to break off it would be easily detected with excited X-ray equipment on the conveyor system. These high performance long lasting FDA approved polyurethane rods are available in any hardness from 20A to 95A and have all the great physical properties polyurethane has naturally.
Plan Tech stocks FDA approved white pigment and can special order any FDA approved pigment from world-leading pigment suppliers. FDA approved polyurethane rods are ideal for packaging facilities looking for a lower cost approved rod that often times performs better than the OEM. Frequently Plan Tech will supply the FDA approved polyurethane rods in an oversized length for a secondary operation to the rod. Plan Tech specializes in secondaries on urethane parts and can also supply FDA approved polyurethane parts for just about any application. From start to shipment of every order Plan Tech will work with you on every detail to ensure the FDA approved polyurethane rods are exactly what is needed for your custom industrial application.
Our engineering department can turn your idea, sketch, drawing or CAD file into custom FDA approved polyurethane rods. We will reverse engineer to recreate any urethane part for production or one-off urethane pieces. The engineering department utilizes SolidWorks and our machine shop utilizes CamWorks for 3 axis milling. Our equipment includes CNC mills, lathes, polyurethane grinders as well as a state of the art urethane waterjet cutting machine.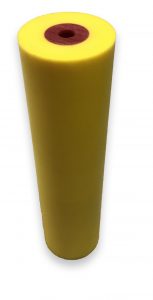 Please Contact us for further details regarding FDA Approved Parts.