FDA compliant urethane wheels are replacing rubber, plastic and metal wheels at a rapid pace. At Plan Tech we understand that it is imperative that our products, materials, and equipment are FDA Dry Approved. As such our customers are specifying FDA compliant urethane wheels that are of premium grade materials, close tolerances, and custom formulations.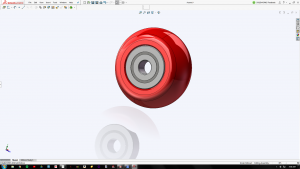 Whether you need FDA compliant urethane wheels with industrial or food grade applications our FDA Dry compliant formulations and our team of engineers will help you achieve your custom formulation. Our technicians will also assist you from inception to completion of your project. They can help you determine the right load-bearing capacity depending on your desired application; they can also help with the core design of your fda compliant urethane wheels, the strength needed and the polyurethane compound that best suits your application.
We use FDA compliant antimicrobial additives in our FDA compliant urethane wheels; this antimicrobial additive is used to suppress the growth of several destructive and odor-causing microbes including bacteria, mildew, molds, and fungi.
FDA Compliant Urethane Wheels
The breadth of the facilities in our in-house machine shop gives us the ability to customize any FDA compliant urethane wheels needed. No matter the shape, size, durometer or color. Our FDA compliant urethane wheels are created to withstand the torture of the heaviest loads found in the agriculture, corrugated, packaging or food processing industry. The advantages of urethane far outweigh those of metals and plastics. It isn't a questionable fact that metal parts wear out three times faster than urethane materials. Here are some of the advantages urethane holds over metal and plastic below:
Urethane vs Metals and Plastics
This is one advantage urethanes hold over metals that require no debate. While metals are generally renowned for their remarkable ability to produce noise, polyurethanes, on the other hand, absorb noise thereby preventing it.
The elastomeric memory of urethanes is second to none; they have the ability to regain their initial size regardless of the rigidness at which they are extended or stretched to a significant extent. Whereas many plastics and metals can't regain their original size having been extended beyond their breaking point or elastic limit.
Urethanes significantly weigh lighter than other elastomers, metals, and plastics inclusive causing them to perform better even without any solid backing.
Are you interested in FDA Compliant Urethane Wheels? Please Contact us so we can help solve your requirements!