Flexible urethane wear plates are one of the numerous high-quality urethane products that are produced in the state of the art in-house machine shop at Plan Tech that is fully equipped with sophisticated machinery.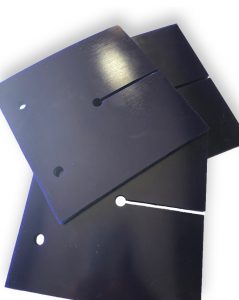 The flexible polyurethane wear plates manufactured by our team of engineers are cast from first-rate raw materials produced by internationally recognized chemical producers which make our products offer all-around wear protection even after long years of service. Our engineers are highly skilled at customizing flexible urethane wear plates to meet the specific requirements of any application be it light or heavy duty application.
With the flexible rubber wear plates we manufacture at Plan Tech, you can be certain of reduced cost running as they have been carefully designed to require less maintenance. We have them available in a variety of shapes, hardness, and sizes. So it doesn't matter what dimension of the product you seek for your project, we guarantee you of finding the exact dimension that meets your application's requirements.
However, you can also bring your sketches, samples or ideas of flexible urethane wear plates to us at Plan Tech and let our team of experts wow you by transforming your imagination into finished products that depict classiness. The inactive or downtime of your company can cost you shortage in production as well as man-hours if you settle for anything less than a superior product material.
So what exactly should you take into consideration when deciding what material to purchase? The following should help answer the above question.
Urethane parts offer a wide coverage or range of durometers in comparison to Silicon, UHMW, and Nylon that are of limited range. One of the benefits offered by the wide durometer range of Plan Tech is that urethane parts are that you have the flexibility of choosing the perfect product from a variety of options.
Are you interested in cast Flexible Urethane Wear Plates? Please Contact us so we can help solve your requirements and work with you on your specific application!