Greenhouse Urethane Drive Rollers are one of the numerous high precision urethane products produced at Plan Tech from first-rate raw materials manufactured by internationally recognized chemical producers. They find application across different sectors such as the shipping industry. The team of engineers at Plan Tech are well versed. We can help you select the perfect greenhouse urethane drive rollers for your application.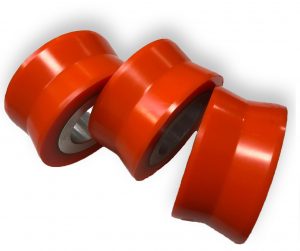 Custom needs? We can help with designing, molding, engineering, prototyping, and testing. We also offer a wide range of standard extruded profiles as well as machined profiles. We can produce one off profiles to suit your exact requirements. Therefore, it doesn't matter what the requirements of your greenhouse rubber rollers are; you can count on us to meet your demands with perfection.
We have been manufacturing greenhouse polyurethane drive rollers along with other urethane products over the past three decades and thus, boast a vast wealth of experience that stands us apart from most others. The greenhouse rubber drive rollers we produce at Plan Tech offer superior physical properties. Our greenhouse drive rollers are known for their remarkable ability to withstand weather extremities, harsh environmental conditions as well as resist corrosion, abrasion, chemicals, etc. Some of the industries benefiting from the high performance of polyurethane parts:
Paper industry
Polyurethane parts are very important to the paper market. They are used in the manufacture of different paper products including lump-breaker rolls, press rolls, reel rolls, etc.
Mining and Quarrying
As far as the mining industry goes, the parts of polyurethane are applied in so many areas like the urethane conveyor belt scrapers, urethane seals, pipelining, hydrocyclones, agitators, etc. The reason is that of their impressive ability to resist abrasion and their high resilience to tough conditions.
Agricultural Sector
Another industry benefiting from polyurethane parts is the agricultural market where urethane parts are applied in the production of high-quality products like cotton doffers, elevator buckets, and urethane crane wheels.
Are you interested in Greenhouse Urethane Drive Rollers? Please Contact us so we can help solve your requirements and work with you on your specific application!