Grinding Urethane Parts ? You've come to the right source!
Grinding urethane parts requires specialized machines and skilled knowledge as each hardness will machine differently. Plan Tech has the ability to grind any hardness urethane parts from chewing gum soft 20A to medium hardness 90A. Harder durometers can also be successfully turned with traditional tool bits. We offer many types of high-quality grinding urethane parts:
 Grinding Urethane Parts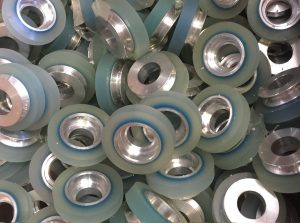 Grinding Urethane Rollers: Grinding urethane rollers is just one of Plan Tech's specialized services that we offer. Custom cast urethane rollers are precision cast before being sent to Plan Tech's in house machine shop. For the last 30 years, we have been building and updating our grinding capabilities to accommodate just about any size or hardness urethane roller.
Grinding Urethane Wheels: Grinding urethane wheels is a common practice for Plan Tech's state of the art machine shop. Over the last 30 years, we have made custom lathes and machines to specialize in machine grinding urethane wheels. Skilled machinists are necessary to perform these tasks as it is completely different than machining metal.
Urethane Grinding Specialists: Urethane grinding is extremely specialized and most machine shops do not grind any type of material. Plan Tech for the last 30 years has been taking on new jobs each year while building our knowledge and machining capabilities.
Finish Grinding Polyurethane Rollers:   Polyurethane rollers, for the most part, are open cast and shipped directly after being de-molded. For high-speed applications, Plan Tech takes another step to ensure our rollers outperform any OEM or aftermarket roller on the market. Finish grinding polyurethane rollers ensure the roller will be concentric with no runout while operating at high speeds.
Finish Grinding Urethane Parts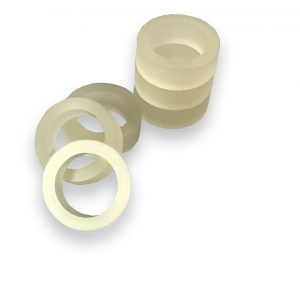 For the last 30 years, we have been building custom one-off grinding lathes and machinery to hold incredibly tight tolerances and the ability for grinding urethane parts. While most parts we try to mold to size sometimes a secondary operation is required to complete the part. Plan Tech has many different methods for molding parts to reduce the cost required to complete complex parts and be able to provide a quicker lead time. Frequently, we have found using our special blends of coolants while grinding urethane parts with soft durometers will give an ideal smooth surface on rollers and similar parts. Water may also be used but leaves a residue on the finished parts. A dust mask is also required as fine urethane particles will fill the area.
Plan Tech has designed a custom center vacuum system for all of our urethane grinding equipment resulting in less downtime due to clean up. Grinding urethane parts is challenging and time-consuming. Plan Tech is equipped with the equipment and skilled knowledge for grinding urethane parts in high volume with rapid lead times. We currently supply ground urethane parts around the world to many fortune 500 companies.
For over 3 decades we have focused on using speed and precision while grinding urethane parts to manufacture the highest quality industrial cast urethane parts to our customers. A particular strength is the breadth of our in-house capabilities which, when combined with our extensive experience, enables us to deliver tight tolerances while grinding urethane parts while maintaining the quality control and cost effectiveness our customers require. The tests are performed according to an established set of standards provided by an accredited testing organization such as the Society for Testing and Materials (ASTM) who define the procedures in detail.
Grinding Urethane Parts
Please Contact us for further details regarding Grinding Urethane Parts.