Grinding urethane rollers is just one of Plan Tech's specialized services that we offer. Custom cast urethane rollers are precision cast before being sent to Plan Tech's in house machine shop. For the last 30 years, we have been building and updating our grinding capabilities to accommodate just about any size or hardness urethane roller.
Frequently we are sent worn out rollers and wheels from our customers with metal cores or "rims" that are still in useable shape. We are able to save our customers thousands of dollars by being able to reprocess worn out rollers with new urethane coatings and grinding urethane rollers. No matter what material the roller was previously coated in, Plan Tech will be able to strip and re-produce OEM or aftermarket urethane rollers to just about any size or to match the profile of the material the roller will be processing.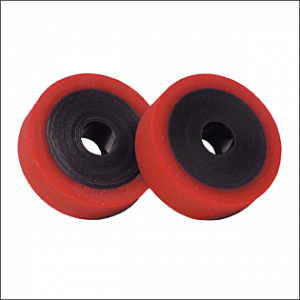 Plan Tech uses the best prepolymer from world leading chemical and polyurethane manufacturers to produce urethane rollers that are chemically resistant to most solvents with extremely tight tolerances. Grinding urethane rollers is not an easy task, Plan Tech has build custom one off machines capable of performing such precision. We use special grinding wheels and also a custom blend of special coolants that we use while grinding urethane rollers. Grinding urethane rollers are also available for FDA requirements and also available in any color.
Plan Tech also has an outstanding team of dedicated employees with exceptional talents designing and manufacturing custom urethane parts and grinding urethane rollers. We also are very proud of the "company we keep." Our customers include many Fortune 500 companies, most of whom have been customers for 20+ years. Their drive to become industry leaders has helped us do the same.
Whether you are a startup company or global leader, we can add value to your products with our strong engineering support, urethane polymer experience and constant focus on meeting all delivery requirements. Our rapid prototyping capabilities have also received particularly positive feedback – we frequently go from "Print to Part" in 10-15 business days! Everything we manufacture is MADE IN THE USA.
Please Contact us for further details regarding Grinding Urethane Rollers.