Grinding urethane wheels is a common practice for Plan Tech's state of the art machine shop. Over the last 30 years, we have made custom lathes and machines to specialize in machine grinding urethane wheels. Skilled machinists are necessary to perform these tasks as it is completely different than machining metal.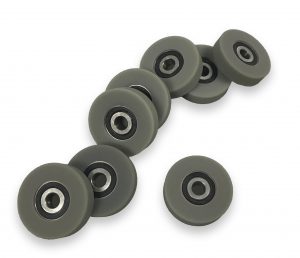 Other companies have found deep freezing the parts to extreme temperatures allows them to machine urethane but with catastrophic effects. Urethane is not rated to be deep frozen and is meant for use in normal conditions down to -20F. When grinding urethane wheels Plan Tech does not risk destroying the physical properties of its urethane wheels and parts by these methods.
When grinding urethane wheels we machine grind the urethane wheels at room temperatures to ensure tight tolerances and the best physical properties of our urethane material. Any hardness, color or profile can be molded or machined into the roller. Very rarely if ever have we been forced to turn down a new urethane molded wheel application due to the profile needed for the customer. We pride ourselves on a quick turnaround from design to custom fabricated cores coated in urethane that will then be finished by grinding to any size needed. From a simple sketch, we will have enough to provide a quote for any amount of wheels needed for the application.
Machining and grinding urethane wheels and cast urethane parts require specialized equipment and training. Here at Plan Tech we utilize 3D CAD Design Software Solidworks and make all of our own molds in-house for speed, accuracy and precision. We control the entire process from design to manufacturing. Custom mold making is at the very core of what we do.
Our machine shop includes CNC Lathes, Mills and Grinders for machining cast urethane parts. We also have manual mills as well as a sheet metal and welding area. In addition, we have a Flow Water jet with 48×96 inch sheet capabilities and can cut a list of materials like Polyurethane, Steel, Stainless Steel, Aluminum, Carbon fiber, and most plastics.
Please Contact us for further details regarding grinding urethane wheels!