High-density urethane blocks also known as high-density urethane board (HDUB), it is a non-abrasive tooling board that is used for tooling applications or as modeling foam. It is easily worked using water jets, woodworking tools, sophisticated CAD/CAM routers, standard high-speed steel (HSS) cutting tools and CNC machines.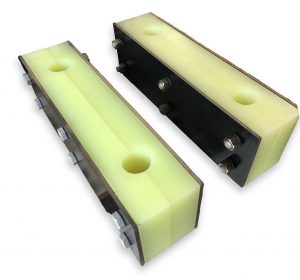 It is usually sought after in the industry because of its outstanding characteristics which make it easy to create master models, styling and design models, layup tools, mold and foundry patterns and lots more. High-density Urethane blocks have higher heat-deflection temperature rating which makes it suitable for the use in vacuum- forming applications.
Other applications of high-density urethane blocks include:
Styling and design models
Composite Tooling
Layup tool masters
Master models
Outdoor signboard
Outdoor Displays
Mold and foundry patterns.
At Plan Tech we use urethane to increase stiffness for load bearing purposes, reducing weight, cost and laminating time. Our engineers and technical team ensure that the high-density urethane blocks produced are of high standard with a range of surface coats. We produce high-density urethane blocks in sizes of 600x600mm, 600x1200mm and 1200x1200mm and multiple blocks of foam can be produced depending on the order and specification of the client. Plan Tech a leader in cast urethane manufacturing, process's urethane additives from the world's leading chemical companies. Whether its enhanced lubricity for high abrasion resistance applications or for anti-static wheels for shoppers who don't want to be zapped touching a metal cart. Having more than 30 years experience in the polyurethane industry provides Plan Tech the specific knowledge of incorporating polyurethane additives:
High Durometer Urethane Additives:  Air Products Founded in 1940 provides world-leading food curative that can be used in the manufacture of polyurethane elastomers intended to contact dry food. Air Products has built a reputation for its innovative culture, operational excellence.
Are you interested in custom High-Density Urethane Blocks? Please Contact us so we can help solve your requirements!