High impact urethane blocks are one of the numerous urethane products we specialize in making that set us from others in the industry. The high impact urethane blocks which we manufacture in our well equipped in-house machine shop (which boasts the largest urethane facility in the U.S.), are of world-class quality.
Like our other urethane products, we manufacture our high impact urethane blocks using only top-grade urethane materials from world-renowned chemical producers. Our high impact urethane blocks offer exceptional wear resistance and impressive resistance to abrasion, corrosion, and chemicals. Our highly talented team of engineers consider every detail during the manufacturing process of our polyurethane blocks to ensure the finished product is nothing short of top-notch quality.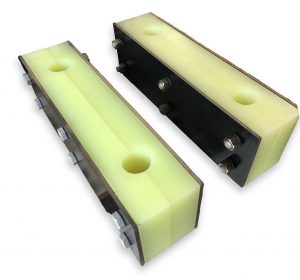 We cast the urethane into a mold with great precision to make the part and then machine it in our world-class in-house machine shop using our state of the art urethane facility. Our technicians have the technical know-how to manufacture different profiles or specifications of high impact rubber blocks with the high-performance ability and long service life. The capability of our high impact rubber blocks to perform at their optimal level even after years of been repeatedly used sets our brand from others in the industry.
Plan Tech a leader in cast urethane manufacturing, process's urethane additives from the world's leading chemical companies. Whether its enhanced lubricity for high abrasion resistance applications or for anti-static wheels for shoppers who don't want to be zapped touching a metal cart. Having more than 30 years experience in the polyurethane industry provides Plan Tech the specific knowledge of incorporating polyurethane additives:
Superior Abrasion Resistance Additives: Plan Tech is a leading cast polyurethane supplier that also has a custom line of additives. One of the most commonly used additives is Armorglide providing superior abrasion resistance for high use applications.
Color Matching Urethane Additives: Whether it is color matching, just-in-time shipping, custom packaging, or any of the other services PAT Products provide, our customers get exactly the solution they need. We take great pride in the success of our customers. They are part of the family.
Are you interested in High Impact Urethane Blocks? Please Contact us so we can help solve your requirements and work with you on your specific application!